Spreading some festive cheer!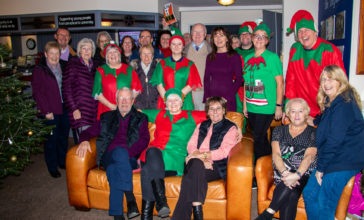 The HDT team got into the festive spirit and donned their Elf costumes to share some seasonal joy.
On Tuesday 17th December we opened our doors to the community for our 2nd Christmas Coffee Morning at Hamilton Davies House. We were thrilled that over 60 people from the local community were able to join us for some lovely cakes, hot drinks and seasonal friendship.
The next day the Elves put on their costumes once again and boarded the HDT Elf trailer, along with Father Christmas, for their tour up Liverpool Road. It was wonderful to see so many people, including local residents, schools and businesses turn out to give us a wave.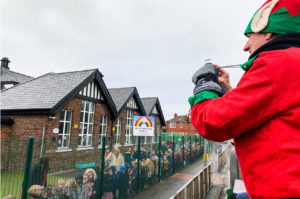 Mandy Coleman said,    "We were thrilled that so many people were able to take time out from their busy day to  share in the joy. We want to thank Josh Wyke from Wykes Commercials, Irlam for taking time out to prepare the steam engine, 'Old Faithful,' and for steering us safely through the district. We also wish to thank Father Christmas for joining us and adding that magical touch!"
What a wonderful way to end a busy year!
Posted on: 19th December 2019