Poppies popped up everywhere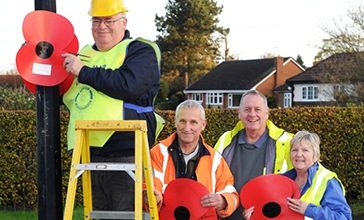 Over 400 giant poppies sprung up around Irlam and Cadishead as part of a fundraising drive for this year's Royal British Legion Poppy Appeal.
Volunteers fixed the poppies, which are each 34cms across, to 203 lampposts along Liverpool Road on Sunday 29 October. Each of the 406 poppies has been sponsored at £5.
The lamppost poppies raised a whopping £2,055. Add in an estimated £17,000 raised by the sale of wreaths, merchandise, plus normal-sized poppies and donations, this year's appeal is on track to raise at least £19,000, even more than the total raised in 2016.
Irlam was the first area in Manchester to introduce the idea of putting up big lamppost poppies. Local man Mike Jenkins came up with the idea in 2014 before The Irlam and Cadishead Poppy Appeal adopted it last year.
The Poppy Appeal is led locally by the Rotary Club of Irlam, the Probus Club of Irlam, the Royal British Legion and Hamilton Davies Trust.
Chair of the Irlam and Cadishead Poppy Appeal, Jim Parker, said: "We were proud when Irlam became the first area in Manchester to put up lamppost poppies in support of the Poppy Appeal in 2014.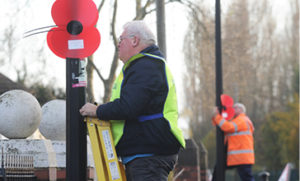 "This year, the poppies have been even more popular than before, with all accessible lampposts on Liverpool Road being covered. Local people really got behind the idea. They have been very generous in their support. I'd like to thank both the sponsors and the volunteers who gave up their time to support the appeal.
"Looking down Liverpool Road, you can see the poppies stretching into the distance. Anyone who sees them in the days running up to Remembrance Sunday will remember the men and women who gave their lives fighting for this country."
Posted on: 15th November 2017