New Partnership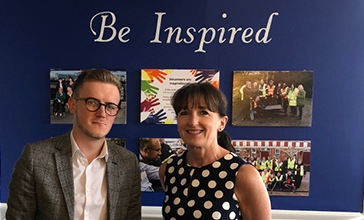 We are delighted to announce that we have agreed to be Fairmont Recruitment's (FR) first charity partner.
Set up by Jack Donohue, a local lad from Cadishead, FR are hoping to provide ongoing support to HDT, as the business grows and to make it a long and healthy partnership.
Jack Donohue, Fairmont Managing Director said: "We are delighted to have the opportunity to support HDT with future initiatives that may help further enhance the growing reputation and support the charity brings to so many."
A former pupil of St Teresa's Primary School and player at Cadishead Sports JFC, Jack still lives locally and is a coach at Irlam Vale.
Jack added: "HDT are doing so much to try and regenerate Irlam and Cadishead and I want my children to grow up in a nice area and hopefully we can provide support to help."
Mandy Coleman, HDT Consultant General Manager said: "It's encouraging and uplifting to see a young start up company already considering how they can make a difference to the community. Jack is very ambitious and we hope he is very successful and we look forward to helping Fairmont to support the community in the future."
Posted on: 24th September 2018