Looking back with pride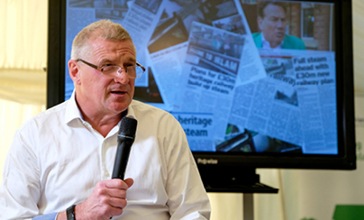 More than 120 people, including community group members and individual volunteers, joined us to celebrate the area's accomplishments in the last 12 months.
The celebration, now in its fourth year, also provided an opportunity to look forward to many inspiring projects in 2017/18.
Held at the Black Swan in Hollins Green on 5th July, the event enabled us to thank the community groups and individuals whose efforts have helped make Irlam, Cadishead and Rixton-with-Glazebrook a better place to live, work and enjoy.
A glass of fizz awaited guests as they arrived. Later they enjoyed entertainment from Joe Hatton, as well as a spread of delicious food.
The highlight of the evening was the Awards Ceremony that saw HDT Consultant General Manager Mandy Coleman pay tribute to a number of local people whose dedication and commitment has made a significant difference in the community.
HDT Chairman, Neil McArthur outlined the year's headline achievements and set out the aims and ambitions for 2017/18.
Neil said: "I must thank everyone who has played a part in the success story that we continue to write for ourselves. Only by coming together as members of a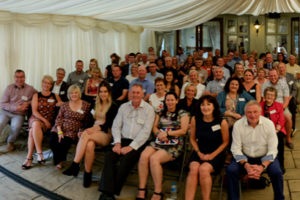 diverse and dynamic community can we make Irlam, Cadishead and Rixton-with-Glazebrook an even more vibrant, engaged and inclusive location for all of us."
HDT has provided 557 grants to over 165 individuals, groups and organisations, and delivered support worth more than £7m to the local community since we formed in 2004.
One of the most exciting developments of the year was launching HDT's proposal to bring Cadishead Viaduct back into use as a major community asset – potentially including a heritage railway.
Neil commented: "I was thrilled to welcome key stakeholders to a hugely productive meeting at Irlam Station that coincided with a celebration of the station house's second anniversary. Our guests included Michael Portillo, presenter of BBC TV's Great Railway Journeys series, who enthusiastically endorsed the viaduct project and attracted significant media coverage."
Meanwhile, Cadishead Rhinos Rugby League Club had good reason to celebrate 2016/17 as a landmark year. The Rhinos secured £150,000 funding from Sport England to transform Cadishead Rec and we were happy to commit to providing the additional £250,000 required to deliver the project. It will see the development of a new rugby league hub which will become a major asset for the area.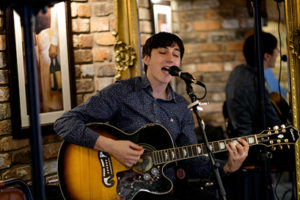 The year saw a strong blend of regeneration projects taking shape, including the ongoing development of Irlam Linear Park, a green nature trail in the centre of town that is being discovered by more and more walkers and cyclists.
I C Art, our urban art programme also continued to flourish and not only did it make its first TV appearance on BBC's North West Tonight programme, but it also delivered Cheshire Lines, a large format artwork on Liverpool Road.
"Just wanted to say a big thank you for the invite to the wonderful evening this week at the Black Swan. It was really great to see so many fantastic projects and people being celebrated. It is truly a unique community and very lucky to have support from HDT." Julia Block, Health Improvement Team
To find out more about the achievements of 2016/17 or see what exciting projects are coming up this year, why not download a copy of our annual report.
Posted on: 6th June 2017