Cyclists Test Drive Chat Moss Route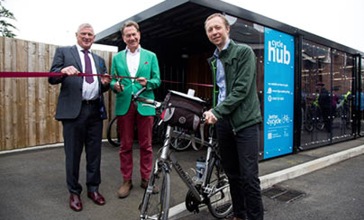 Pioneering cyclists staged an important demonstration of pedal power when they took part in a 13 mile 'test ride' across Chat Moss near Irlam and Cadishead.
The route, which is still being developed, provided the 13 cyclists with an exhilarating ride through lush countryside near to the two towns.
The bike ride was part of an exciting event to launch a proposal to re-open Cadishead Viaduct. The ambitious plan could see cycle routes across Irlam and Cadishead, including the Chat Moss route potentially linking to National Cycle Network routes 55 and 62. In addition, the scheme could create a heritage railway across the viaduct as well as re-opening pedestrian access. We are championing the proposal and are working with local stakeholders to take this forward.
The 'test-ride' was started by BBC TV's Great Railway Journeys series presenter Michael Portillo, who blew a vintage station masters whistle to get the cyclists on their way.
Amongst the riders was Martin Deane, who after completing the ride said: "It was a great ride, exploring Chat Moss and the Bridgewater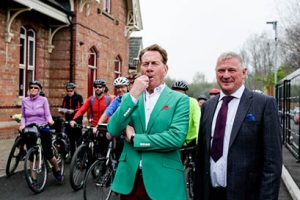 Canal, which should take around two hours at a moderate pace. Being predominantly flat and off-road, or on quiet roads, it's suitable for most levels of cyclist expertise."
Martin added: "Cycling is really good for health and wellbeing. Also, the more people that cycle, the better, because it makes it safer for everyone, as other road users become more aware of cyclists on the roads."
Another rider, Mike Hack, commented: "I thoroughly enjoyed the experience with a friendly bunch of riders, going at a steady pace through open countryside. The route is excellent and ideal for cycling. I especially enjoyed Chat Moss and the off-road and cycle lane sections."
The event also helped to launch the Transport for Greater Manchester (TfGM) cycle hub at Irlam Station, which was celebrating the second anniversary of its restoration from a run-down old building to a state-of-the-art community facility.
Michael Portillo cut the ribbon to officially open the hub, along with HDT chairman Neil McArthur and Andy Howard, cycling project manager at Transport for Greater Manchester.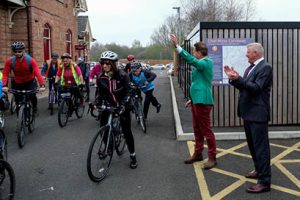 Helen Smith, TfGM's head of logistics, environment and active travel, said: "The new cycle hub, which has 26 parking spaces, is great news for Irlam. At just £10 a year, the hub will offer people an affordable place to leave their bikes safe in the knowledge they are secure.
"Irlam's cycle hub couldn't be better located – right next to the railway station, so we hope it will encourage people to cycle part of their commute and continue their journey by train. Cycle hubs are part of a much wider investment in cycling, aimed at cutting car use, reducing congestion and helping people to live healthier, more active lifestyles."
Mike Hack added: "The cycling hub is an excellent facility. It will encourage more riders to participate, knowing their bikes will be safe and secure while they use the train to travel elsewhere. It' a great example of an integrated transport policy. I look forward to seeing further developments in terms of rail and cycling routes in the area."
Posted on: 6th April 2017