Art Arrives at Irlam Station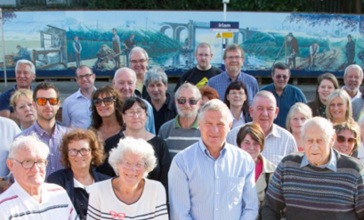 We were thrilled to finally launch the original 'Bridging the Gap' artwork on 29th September after months of planning and engagement with Northern Rail.
Joined by around 60 people including local residents, artists and volunteers we celebrated another great addition to Irlam Station. The station, since its transformation earlier in the year continues to undergo change in our drive to provide a wonderful experience and environment for all of its users.
Featured on the Liverpool bound platform, the artwork is a beautiful addition to the area providing a much more
attractive view for station users and masking the factory which sits behind it.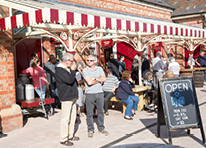 Bridging the Gap was our first major artwork produced by local artist Rachelle Cleary as part of I C Art our programme, bringing urban art to Irlam and Cadishead. A replica of the artwork was launched back in July this year and is featured on the corner of Liverpool Road and Dudley Road.
The artwork tells the story of the areas industrial heritage and railways depicting a link between the people from more than 200 years ago to the present day, with the bridge, canal and railway tracks as a central theme. For further details on the tale behind the artwork, why not download a copy of our storyboard?
It took a lot of time and effort to finally hang the original version of this art at Irlam Station, due to the many complexities of erecting such a large piece of art on a station platform. But seeing how beautiful it is in place and how happy it made the visitors on launch day, it has definitely been worthwhile.
This isn't the only art to be featured at Irlam Station, there are further I C Art pieces within the Station House with ghost imagery featured on the main wall in the Coal Yard, a painting of the Ticket Master, as well as other artwork around the carriages.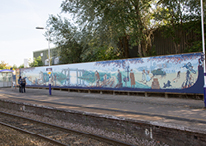 Urban art is something we are very passionate about as we believe it will provide pleasure to local people; further enhance the appearance of the local environment and also attract visitors to the area.
If you like I C Art and the different pieces we are producing, then why not give us your feedback on Facebook or Twitter? Alternatively, send us your feedback here.
If you are interested in getting involved, then why not get in touch? Anyone can be part of the team, it doesn't matter if you can't paint or draw. Creative ideas for future pieces or potential sites, help to research and prepare artwork or an extra pair of hands for its installation are all welcome. If you do have art skills however, these are most definitely welcome too.
"It's great to be able to display and share another piece of beautiful urban art in the area and we'd like to say a
very big thank you to Rachelle (the artist), the wonderful volunteers who supported her and to Northern Rail for allowing us to hang the artwork on the platform". Mandy Coleman, HDT Consultant General Manager
"I was inspired by the big blue bridge on the bypass, which I felt needed to be central to the story. I wanted to focus on the people rather than factories and machinery and pay homage to those who worked to transform the area from two sleepy farming villages into a massive world leading industrial site. Starting with a Worsley man or people like him who I imagined to have traversed the rivers in the area and ending with a scene from the present day." Rachelle Cleary, Local Artist
 "I've found it a pleasure to work on something with Rachelle. It's very different to anything I've done before.  I've found the industrial history part very interesting as I remember the CWS works alongside the canal." Sylvia Fearn Art Volunteer
"We were excited to finally see the art in place, it's been a long time coming. There have been months of planning, organising and managing the many complexities to erect this on the station platform! Our partners in Northern and Network Rail, alongside the raft of volunteers involved have been a great help in bringing this into fruition" Tony Prescott, HDT Operations Manager
Posted on: 1st October 2015