Help needed to support Scrubs manufacture!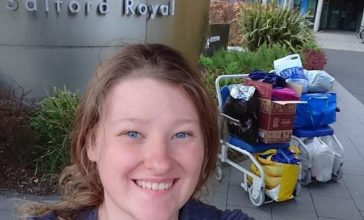 Hamilton Davies Trust (HDT) are looking for more volunteers and donations of materials to make up full sets of much-needed scrubs for use by NHS staff on the front line at Salford Royal Hospital.
Currently HDT's artist Rachelle Cleary is coordinating ten volunteers who are flat out busily cutting patterns and sewing scrubs, hats and bags in their homes, at Rachel Robinson Interiors and at the I C ART studio…and they could do with more help.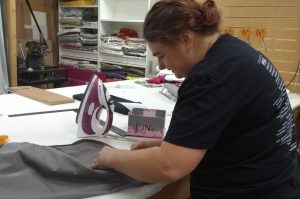 Rachelle first noticed a request for machinists on a local Facebook page from Bethany Scott about the Salford 'Scrubees' and immediately offered her sewing skills. After seeing the large scale of what was needed and consulting with Bethany, Rachelle then reached out locally to friends and businesses for help. HDT agreed for the I C ART studio to be used for making scrubs and the Rotary Club of Irlam kindly donated £300 for purchasing materials.
Bethany said: "When I heard that Salford Royal Hospital were low on scrubs I knew that action needed to be taken. I saw online that the national group needed a Salford coordinator and decided to step up and formed the Manchester and East Lancs 'Scrubees'. The original plan was to just coordinate a few people and make about 50 scrubs, now we are barrelling towards 1,000 scrubs with over 70 sewers."
Rachelle added:  "The response has been fantastic, with local sewing enthusiasts and cutters putting their skills and lock-down time to good use. Already 250 scrubs have been delivered to Salford Royal Hospital."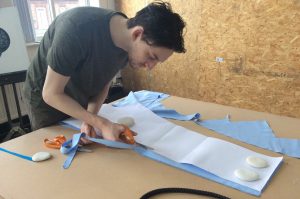 With more scrubs needed Rachelle asked HDT if we could help further. We agreed to fund the purchase of more material and are putting out a call for people to get in touch if they think they can help with any of the following:
3 metre wide poly cotton fabric
Cord or tape to make drawstrings for the pants and bags
Volunteers to sew scrub tops and bottoms
Volunteers to sew scrub bags, 20" x 18" with drawstring top for washing the scrubs in
¼ metre square fabric pieces to make up scrub hats
threads/cottons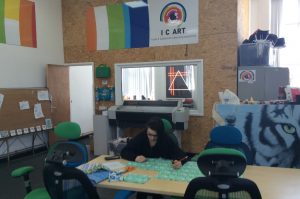 More experienced machinists are required for sewing the tops and bottoms. Hats and bags are easier to sew.
We would also love to hear from any businesses that may have a printer available that can print A01 size – these are needed to print out the scrub patterns.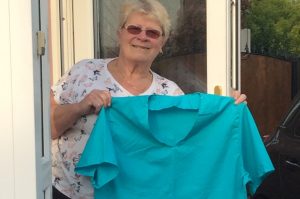 To find out more about how you can help or how to pass on donations please contact Rachelle on     07724 052628 or email [email protected]
Posted on: 15th April 2020