Latest update on our team's Covid-19 response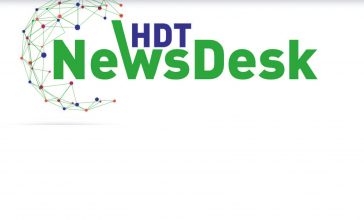 As Coronavirus grips the world, rapidly affecting and changing everyone's lives, many people are wondering how they can help during this terrible crisis.
As always, the communities of Irlam, Cadishead and Rixton-with-Glazebrook have shown true community spirit and quickly rallied round to respond to helping others, who were vulnerable and/or self-isolating.
Keen to offer support, the Hamilton Davies Trust (HDT) team immediately contacted the partners and local volunteers we work with to see how best we could help, and to better understand how we could make a difference to the community and to those courageously putting themselves on the frontline.
So far, we have worked alongside Salford Royal Hospital, Salford Council's Spirit of Salford, local volunteers, Salford CVS, the Rotary Club of Irlam and Rixton-with-Glazebrook Community Plan Group to help facilitate the following support.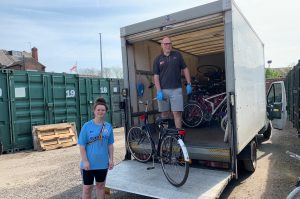 We provided 30 bikes to the Nationwide Cycling Academy to be refurbished for NHS key workers around Greater Manchester. The bikes were previously donated by local residents to go to HMP Risley's Chains project, who we  work closely with. When we heard keyworkers were in need of bikes we immediately answered the call for help.
We were pleased to be able to support the 'Salford Scrubees' volunteer group in their efforts to provide scrubs for Salford Royal Hospital front-line workers. We funded £570 for purchasing scrub material; funded £430 for a new cutting machine, whereby speeding up the cutting process 20-fold; and provided the use of our IC ART studio for volunteers to work in safely cutting out and making up the scrubs.
Having had to cancel our regular  iTea & Biscuits course, HDT staff contacted all our learners, many being over 70 and/or vulnerable, to check if they needed help to stay connected with their loved-ones or group colleagues.
Thanks to a successful grant application to Salford CVS Crisis Fund, HDT were able to support those self-isolating and struggling to connect with family, friends and colleagues by producing simple online IT support and guidance videos.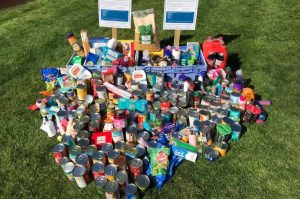 On hearing that the local Community Village Shop were offering home deliveries to all its Rixton-with-Glazebrook parish residents, thanks to the help of several volunteers, we asked if we could help. Our team was able to support them by producing promotional literature to advertise the delivery service.
We were also able to support the Rixton-with-Glazebrook Community Plan Group's 'Drop & Go' food donation initiative, that was set up to support the Irlam & Cadishead Foodbank. As a result nearly 400 non-perishable food items were kindly donated.
HDT have also been supporting local children and families to help them get through this crisis. To date we have funded £3,000 for IT devices to enable Irlam & Cadishead Academy students, from low income families, to study at home; and £500 to a local Carers group who are looking after children with serious health issues and required some 'activity packs' to entertain them.
As well as the above we have also been providing man hours to support the co-ordination of volunteers in support of other Covid-19 initiatives.
HDT wish to congratulate and thank all those in the district who are kindly working together, under very difficult and challenging circumstances, to help others during this crisis.
Keep up the great work everyone….and keep safe!
HDT Team
Posted on: 22nd April 2020