HDT links up with CHAINS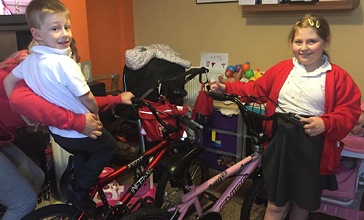 We recently linked up with CHAINS (Change, Help and Advance in New Skills) at HMP Risley, which enables prisoners to take part in purposeful activity and encourages and promotes better job prospects upon release.
The CHAINS workshop is supported by the Margaret Carey Foundation, which supplies and distributes bikes to families and organisations where they are needed most.
Working alongside the two organisations to help support the collection and distribution of the bikes, we were delighted to surprise local children who were gifted our first batch of 5 bikes .
The first two were received by a brother and sister from Irlam Primary School, Lara and Charlie. The two children sadly lost their dad over the Easter holidays, leaving them both devastated. Headteacher Elaine Darwin said how the pair had been absolute superstars and were so brave in school and how their mum was in tears when she told her about the bikes – describing that it meant so much and how thrilled the children would be, which judging by their faces, they definitely were!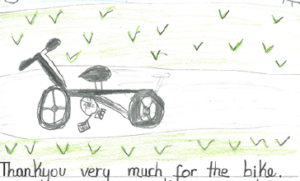 Another brother and sister from Cadishead Primary also received bikes. They sent us a thank you letter explaining how grateful they were. Their favourite thing about the bikes was the beautiful colours and they ride them outside their house every day playing with each other. The letter ended with 'Thank you, I will ever forget your kind gift'.
We received an email for the final bike from the child's grandmother thanking HDT and CHAINS for the gift. He had tragically just lost his baby brother and so he hadn't had much to smile about, but the bike helped to ease a bad time.
The project is still on-going and we will receive the next batch of bikes soon ready for distribution.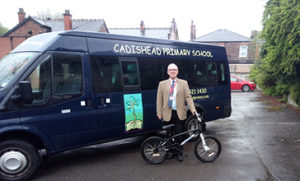 We are also taking donations of bikes and have already received some already. If you have any unused bikes you would like to donate to the project, regardless of condition, please contact Tony: [email protected] or 0161 222 4003 for more information.
Posted on: 31st August 2018