Irlam Station Transformation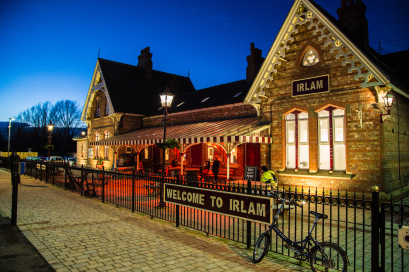 This has been our biggest project to date and we are so proud to have been involved in creating such a wonderful landmark within our community.
26th March 2015 marked the re-launch of Irlam Station House, 122 years to the day since it first opened its doors to the public. Following years of planning, consultation and extensive restoration work, the transformed station now provides lots of new facilities alongside original architectural features, offering visitors a taste of the present and a flavour of the past.
The exterior of the building was extensively renovated to recreate how it looked when it was first built. Original slates adorn the roof and the bright new paintwork is in the original London, Midland and Scottish Railways (LMS) colour scheme. A distinguished drinking fountain incorporating the Irlam coat of arms is a central feature and a magnificent canopy provides visitors with shelter on rainy days and welcome shade from the hot sun. The use of modern construction techniques and materials were employed to ensure the building will be sustainable for many years to come.
Inside the Station House the pristine décor and comfortable seating provides a relaxing atmosphere whilst you wait for your train. Should you want a bite to eat or drink, there is '1923' a café bistro serving delicious food and beverages. Additional facilities include new toilets, free wifi and meeting space.
There is plenty to see too, with fascinating heritage material, photographs and artifacts from by-gone days. Each room has its own tale to tell! One important piece of history inside the building is the clock, which was originally an iconic landmark featured on the front of the Irlam Council Offices in 1907. We were delighted to have this restored after the Irlam and Cadishead History Society gifted it to the area. Through the services of Horologist Phil Irvine, who completed extensive work on this historic piece, the clock now has a fitting new home where it will hopefully continue to serve the district for another 100 years.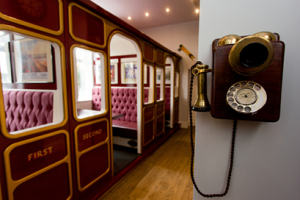 The station complex was also transformed and offers free parking for over 60 cars (including disabled bays), motorcycles and a cycle hub. Enhanced lighting, security cameras and pedestrian footpaths ensure a safe environment. The general surroundings feature extensive landscaping including shrubs and trees, providing a peaceful area for both people and wildlife and adds splashes of colour throughout the year. And that's not all! Adjacent to the building there is 'Platform 9 ¾' – a child friendly area featuring James the steam engine, as well as a wonderful large scale piece of art featured on the Liverpool Bound platform. For more information on the art see Bridging the Gap.
Station Road which leads to the complex has also seen improvements with re-surfacing work and the creation of a new parking bays and pedestrian crossing. The railway embankments have been cleared, tidied and re-planted.
Located just off Liverpool Road, one of Salford City Council's key regeneration priorities in Salford West, the station is well placed, within walking distance of just over 1,000 homes and close to Irlam and Cadishead College, Lower Irlam Neighbourhood Centre and Northbank Industrial Estate. Irlam and Cadishead have a growing population which is likely to result in more people using Irlam Station, not just to catch a train, but for the great facilities on offer.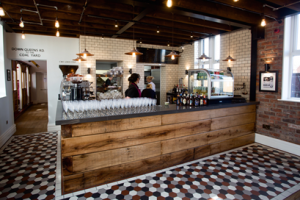 At a cost of over £2m, the Irlam Station complex, after standing derelict for almost a quarter of a century now offers a fantastic first impression of the area to travellers passing through and a great facility for locals, one to be proud of!
The project is a great example of partnership working, with Salford City Council, NC Developments, Transport for Greater Manchester, Network Rail, Northern Rail, Irlam and Cadishead History Society and the Friends of Irlam Station joining with us to combine ideas and resources to bring the station back to its former glory.
This has been our biggest project to date and we are so proud to have been involved in creating such a wonderful landmark within our community that is now a venue for socialising and meeting up, as well as catching a train.
Whatever the reason for visiting, it is now so much more than a station and will provide a safe and enjoyable experience for the local community and the 240,000 rail users who use the station each year. We hope that Irlam Station can now become a bustling hub like it once was in its heyday!
The station has been on a journey of its own over the years and this is documented in our commemorative newspaper Irlam Chronicle. Why not download a copy today!
For further images of the redevelopment project, see our gallery.