The Celebrity Express – Irlam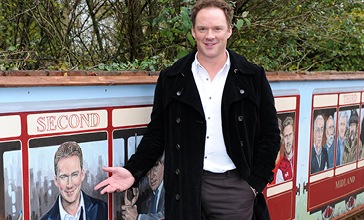 World-famous tenor Russell Watson launched our new eye-catching artwork at Irlam Station, which celebrates some past and present famous pioneers, industrialists, artists and entertainers who have shaped Irlam and Cadishead over the years.
Russell, along with professional footballer Cameron Brannagan and actresses Michelle Keegan, Emma Lowndes and Lesley Nicol are among the 29 notable individuals pictured in the artwork, which has been named The Celebrity Express – Irlam.
The celebrities, who have been connected with the Irlam and Cadishead area over the past four centuries, are portrayed as passengers on one of the trains that travelled on the Manchester to Liverpool line through Irlam Station in the first half of the 20th Century.
The artwork is mounted on the wall on the station's Liverpool platform. It was the brainchild of HDT Chairman Neil McArthur, and was painted by our inhouse artist Rachelle Cleary, with help from local volunteers.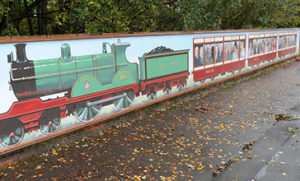 Both Neil and Rachelle are also pictured in The Celebrity Express – Irlam. Neil didn't know beforehand that Rachelle was going to include him.
Mandy Coleman, HDT Consultant General Manager said: "As part of our programme of urban art, HDT has commissioned a number of beautiful artworks around the local area, and this, The Celebrity Express – Irlam is the latest example.
"It aims to celebrate some of the economic, industrial and cultural history of Irlam and Cadishead over the last four centuries and also to recognise the talents of some of the many people who have helped our community become what it is today.
"We spent a lot of time researching this piece, so we hope this is both informative and a historical piece as well being a great-looking mural for commuters and local people to enjoy."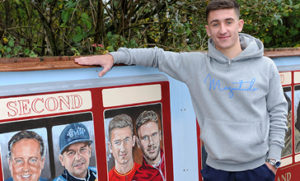 Celebrities pictured in the mural, along with their families and relatives of those who are now deceased, were invited to the opening event at Irlam Station on November 7.
Russell Watson, originally from Irlam and lived there until his mid-20s, said: "I am truly honoured to launch this brilliant piece of art – and to be featured in it.
"It is fascinating to see so many famous and historical figures have been connected with Irlam and Cadishead over the years.
"This piece of art really brings the history of the area home to you. It's a real asset to the station, which is already such a lovely place to visit."
Michael Keegan, Father of Michelle said: "I feel privileged and proud that the local community have honoured Michelle and given her a seat on the Celebrity Express – Irlam. The artwork is remarkable. Great work by Rachelle and her team."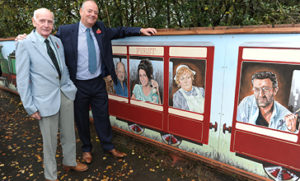 The importance of the railway and canal to Irlam and Cadishead is reflected by the presence of many of the pioneers involved in their creation in The Celebrity Express – Irlam, such as George Stephenson and Sir Edward Leader Williams.
The Cheshire Lines Committee railway opened in 1873 and was a catalyst for the rapid industrialisation of Irlam and Cadishead, along with the Manchester Ship Canal, which opened in 1894.
As well as Russell Watson, Michelle Keegan, and Cameron Brannagan the 'passengers' include:
• Sir Edward Leader Williams
• Sir Edward Baines Junior
• George Thomas
• Robert Stannard Senior
• William Roscoe
• Emma Lowndes
• Peter Whitfield
• Lesley Nichol
• Georges Stephenson
• Ray Lowry
• Cliff Twemlow
• Max Shacklady
• Bill Dulson
• Ben Hopwood
• Scott Andrew Hogan
• Frank Hulme MBE
• Sir Edward Watkin
• James J Royle
• Thomas Steers
• Thomas Patten Senior
• James Brindley
• Josiah (Joe) Lane
• Thomas Knowles
• Rachelle Cleary and Jess her dog
If you haven't seen it yet, then why not pop down to Irlam Station and take a look.
Look out for our Celebrity Express – Irlam leaflet coming out soon! This will provide biographies for all of entertaining and interesting passengers -it's a great read!
Posted on: 8th November 2017