The Man on the Bench is back!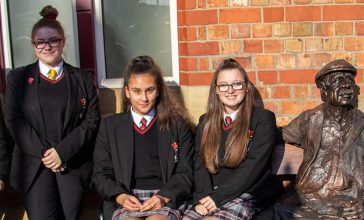 Our beloved Man on the Bench sculpture has now arrived back home at Irlam Station.
He has been away for some time being cast in bronze following the successful fundraising campaign to get him back on his feet, thanks to the support of the wonderful Irlam and Cadishead community.
Named 'At the End of the Day', the statue was created by gifted local schoolboy Simon Law, as an art project at Irlam High School in 1978.  He was later restored in 2016 and took pride of place on the platform in front of Irlam Station House, where he won a new audience of commuters and visitors, many keen to catch a selfie with him.
Vandalism and suffering the outdoor elements meant he had to go into storage, but local people and HDT were determined to get him back into the community where he belongs.
The target was achieved through generous donations from local people, community groups and businesses, a Crimefund Grant, local raffles (with prizes donated by local businesses), an auction for a signed Manchester United Shirt and bucket collections, to name just a few.
Local schools were also keen to get involved through non-uniform days and different events, as well as selling items made by the students in the form of calendars and Valentines cards, etc.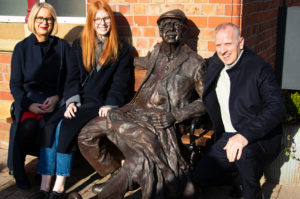 Simon Law, the original artist then aged 15, was an aspiring sculptor and one of his other creations, a bust of Ena Sharples actress Violet Carson, was bought by Granada Studios.
Simon, now a senior design manager for John Sisk and Son, said: "I was very pleased with the way the sculpture came out, but I never dreamt it would be around for another 40 years.
"He looked perfect at the station, like he was waiting for the next train. Passengers saw him every day. He was like a local celebrity.
"I am astounded by the work Hamilton Davies Trust and the community have done to raise funds to cast him in bronze and I feel humbled. He looks perfect at the station and I was very proud to sign him".
Often thought to represent a tired shift-worker from the town's now defunct steelworks, the man has come to symbolise the regeneration of Irlam's Station House from a run-down building into a vibrant community hub.
Mandy Coleman, Consultant General Manager for HDT, said: "We were delighted that the community got behind the fundraising campaign and we couldn't have done it without them."
Mandy continued: "This is a real 'good news' story illustrating the tremendous generosity of local people and the immense sense of pride they take in their heritage and surroundings. Known locally as the Man on the Bench, this incredible piece of art has become a kind of symbol of both Irlam's past and how the area is being regenerated.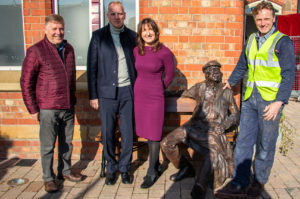 "We would like to thank Eric Lowndes for coming up with the idea to crowdfund, the community for their support and Bronzecast for doing such a fabulous job in making our beautiful Man on the Bench much more robust so it can be enjoyed for years to come."
State-of-the-art techniques were used by Bronzecast to replicate the original sculpture and involved making a wax replica and ceramic shell into which the molten bronze was poured.
Posted on: 28th October 2019