In Bloom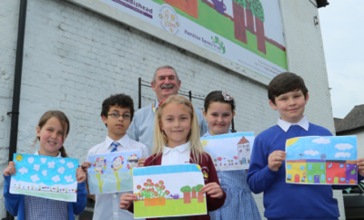 100 hanging baskets and 40 troughs of flowers will decorate the Liverpool Road corridor over the summer as part of the Irlam and Cadishead In Bloom scheme.
Organised by the Rotary Club and funded by Hamilton Davies Trust with a contribution from Irlam and Cadishead Community Committee, In Bloom continues to be a successful scheme in the area bringing together the community, particularly the owners of businesses along Liverpool Road who also help fund the initiative.
This year, seven year old Faith Green's poster design, which is being displayed on a local billboard, launches the scheme.
Faith, who attends Irlam Endowed School, entered the billboard competition where local primary schools were asked to design their version of Summer In Bloom. Her design was chosen from over 180 entries from four local schools. There were four runners up, who also received prizes.
It is hoped that the scheme will continue to grow with more organisations joining and eventually the whole corridor becoming a blaze of colour.
"In Bloom is a fabulous way to keep the area looking and feeling great. HDT is delighted to work with The Rotary Club in Irlam to facilitate this initiative as it makes our areas look more welcoming to visitors and it's lovely to see the main thoroughfare looking so bright during the summer months. Congratulations to Faith whose poster is going to help remind people why In Bloom is so important." Neil McArthur, Chair of HDT
"This is the first year we have asked the local schools to participate in the In Bloom scheme by entering the poster competition and the response was wonderful. The quality and colours of the entries were first class. We will definitely be running the competition again next year!" Alan Cavanagh, Rotary Club of Irlam
If you are interested in getting involved in the In Bloom scheme, or simply want further information, please email: [email protected]
Posted on: 26th May 2014