Hamilton Davies Sixth Form College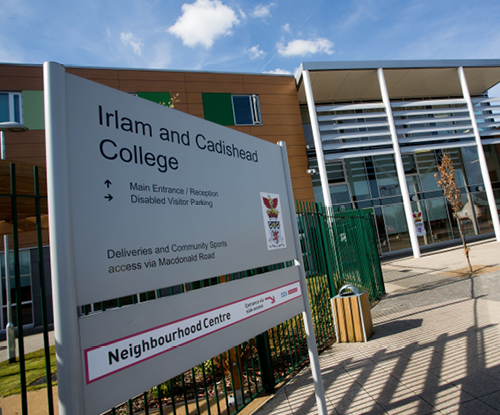 "It was the culmination of years of hard work by many people striving to enhance the educational provision in our community. Students in the locality are now able to access education from early years through to further education in their own neighbourhood."
HDT has brought post 16 education into the area after students had to travel out. Now it's a permanent addition to our communities.
By the mid 1990's the student drop-out rate was at such a high level that the governors at the school proposed a 6th form college in Irlam, as it was challenging for students to get to the other colleges.
Five years on and there was no change. School inspectors demanded action but significant funding was required. So HDT, working in partnership with the Rotary Club of Irlam, provided £150,000 to convert the old squash courts to six class rooms and a common room, which proved an immediate success.
In 2010 the school, renamed Irlam and Cadishead College, was rebuilt and the 6th form became a permanent addition.
Today over 170 students are studying post 16 vocational courses at the Hamilton Davies Sixth Form Centre, with plans to take it to over 200 in the next two years. It is hoped the centre will provide long term support for the aspirations of young people in the area for many years to come.