Fairhills Pre-School, Irlam and Cadishead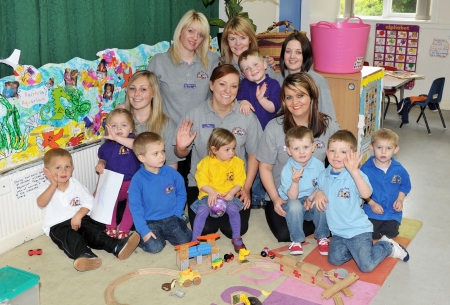 "The award was a massive help and sustained the group. It got us on our feet, without this we may have had to close"
Generations of pre-schoolers continue to enjoy Fairhills after funding from HDT prevented it closing down.
Funding from HDT helped a Pre-school, which serves the toddlers of Irlam, to avoid closure.
The Pre-school, which started back in the 1960's, has been helping generations of Irlam youngsters to grow and learn through play in a fun and cheerful environment.
We gave a £2,000 grant to Fairhills to contribute towards running costs such as rent, insurance and telephone amongst other things. Crucially this helped the Pre-school keep fees down for parents in the area.
Fairhills offer two sessions each day for 70 children aged 2-5 years. Sessions run Monday to Friday during term time. The morning sessions run from 9.10am – 12.10pm and the afternoon sessions run from 12.45pm – 2.45pm.
The group are based at Preston Hall which was refurbished in 2010 by HDT with a new boiler and internal decoration.