Former Signal Man Brian Langhorne shares his memories!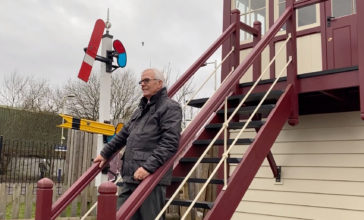 Irlam Station had a special visitor in December 2019. Brian Langhorne, currently living in Poulton-le-Fylde but originally from Cadishead, contacted Hamilton Davies Trust after seeing images of the newly restored signal box at Irlam Station via Facebook. Brian had many years of experience working on the railways and was very intrigued when he saw the signal box. When contacted by HDT, Brian was more than happy to take a trip down to the station to shed some light and knowledge of his time working on the railways and was delighted to visit the new signal box.
During his visit, Brian spoke of how he started out as a train recorder, otherwise known as a 'box lad', working in Glazebrook East's signal box when he was just 15 years old. He recalled some of his earlier memories saying: "The first time a train went past, in the days of steam, the signal box rocked back and to and you couldn't see outside for smoke".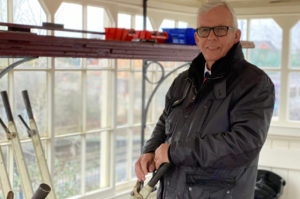 Brian then went on to explain how he later progressed from 'box lad' to signalman. Typically, the age requirements for a signalman were 21 but Brian was just 19 when he applied for the role for Irlam's signal box. Although 2 years under the required age, Brian was considered for the role due to his extensive experience from working in Glazebrook East's signal box, a grade 1 box, meaning it was one of the busiest boxes on the line. He passed the tests with flying colours!
Due to his previous experience, Brian quickly settled into his role as official signalman and remained there for many years. The station master of Irlam Station at the time was Mr Collins, who Brian knew well. He commented: "He was a lovely man. and there was a lot of mutual respect between us. I always made sure the box was clean and tidy to stay in his good books".
Brian remained at Irlam during the transition from coal to diesel trains. He said, "The diesel trains were very quiet and a lot cleaner. It was odd at first as the box didn't shake when they passed". He spoke of bell codes, which are still used today as a way of communication between the signalmen, train driver and train staff. He also saw his fair share of accidents, including many 'hotboxes' a carriage fire caused from the overheating of the wheel axel, which led to fires breaking out and spreading. The bell code for emergencies such as these was 7-7-7, which meant stop and examine.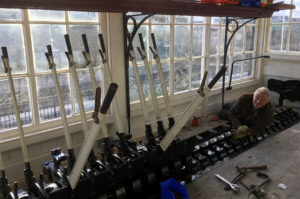 The signal box now at Irlam is an original 1884 box from Keighley Station in Yorkshire. It is currently being restored back to its former glory, including the installation of original signal levers. On first impressions, Brian commented "The new box is very authentic in its shape and size, compared to the original. It adds even more authenticity to the station".
The signal box is due to be completed by the Station's 5th birthday in March and HDT hope that once open many more signal men will visit and share their fond memories!
Posted on: 21st January 2020