Community spirit brings volunteers together during Covid-19 crisis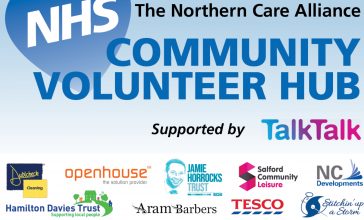 Local volunteers were quick to respond to the call for support from Salford Royal Hospital NHS Foundation Trust to help with the assembly of thousands of protective visors for frontline workers.
On 6th April Hamilton Davies Trust (HDT) received a call for help from Tammy Pike, who works for Northern Care Alliance (NCA), which incorporates a number of hospitals within the North West. Tammy, who is Group Assistant Director Patient/Service User Experience for the NCA, told us that Salford Royal desperately needed more protective visors for their frontline workers and wondered if we could help.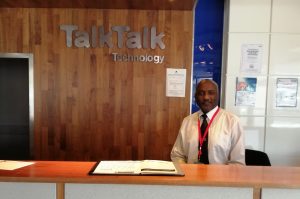 Immediately HDT's Operations Manager Tony Prescott contacted our Trustees Graham Chisnall and Neil McArthur who suggested that the NCA could use the TalkTalk building in Irlam. Tony liaised with Dave Pike    (a local firefighter and former NCA Lead Governor) to find out what was needed. Within a few days they organised a small production line at TalkTalk and co-ordinated an eager group of volunteers to help.
Tony said: "TalkTalk were very accommodating, and their receptionist Mohammed Alzaki was on site throughout the project offering a warm and friendly welcome. The response we received from local volunteers was fantastic.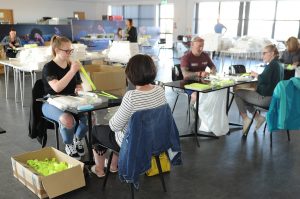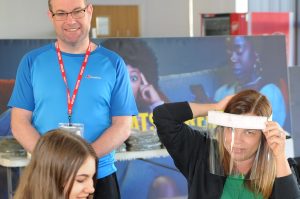 Due to their kindness and willingness to give their time freely, we were able to quickly begin operating 3 shifts with 6 people per shift initially, and then 12, each working flat out for 3 hours over 3 weeks assembling around 3,000 visors per day."
Tony added: "From experience we know how community minded the Irlam, Cadishead and Rixton-with-Glazebrook folk are, but volunteering during these difficult times has shown another level of community spirit."
The prototype for the visor was created by Dr Glyn Smurthwaite, Consultant Anaesthetist and Dr Stuart Watson, Head of R&D Services in Medical Physics, who agreed the final design concept from home whilst in self-isolation.
Local company Ensinger Ltd, Irlam produced the first batch of plastics needed for the visors. These and more then needed assembling …and that's where the volunteers stepped up!
Dave Pike said: "The community and organisations came together in such a fantastic way to support Glyn and his team and it's hard to describe how proud I am of everyone involved in this. A huge thank you to everyone that stepped up and answered the call for help. You are all heroes spending your own time to help save lives and protect the NHS."
Dave added: " Thank you to Hamilton Davies Trust and TalkTalk UK for arranging the building and Tony Prescott for his massive support."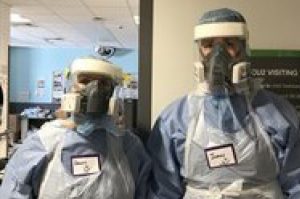 Thanks to the hard work from all involved including volunteers, Salford Royal staff, the design team, and those helping with the collection and delivery of materials and components, a fantastic 35,000 visors were made. These are being distributed to staff across the Northern Care Alliance NHS Group which brings together Salford Royal and Pennine Acute Hospitals Trust.
HDT are so proud to have been able to play a part in this magnificent initiative and wish to thank all those who kindly answered the call for help and volunteered their time and energy. (names below)
Well done to everyone involved …… what a wonderful achievement!
Volunteers
Amber, Charlotte Anthony, Emma Anthony, Keith Anthony, Morgan Anthony, Tracy Tabner-Bacon, Natalie Baran, Olivia Barry, Zenna Barry, Alison Blackwell, Paul Blackwell, Sophie Blackwell, James Cooper, John Eccles, Alambra Egerton, Mark Fish, Rebecca Foster, Pat Glynn, Darren Goulden, Paula Goulden, Helena Graham, Lena Graham, Marcus Graham, Diane Grey, Mark Halliwell, Suzanne Halliwell, Cathy Higgins, Dave Higgins, Holly Higgins, Reece Higgins, Dave Higham, Joanne Higham, Rose Mellor Hughes, James Jones, Jan Jones, Joannne Platts, Nicole Malpus, Dave Mann, Sarah Mann, Cheryl Mellor, Ged O'Connor, Adam Pike, Dave Pike, Rebecca Pike, Tammy Pike, Adam Pickering, Dave Pickering, Ryan Pickering, Tracy Pickering, Gary Prescott, Tony Prescott, Caitlin Rushton, Jenny Rushton, Paul Scott, Helen Spender, Molly Spender, Roy Thickett, Stuart Tipping, Vicky Turner, Dave Usher, Jane Wade, Jay Waterworth, Daniel Watson, Ela Whareham, Georgie Whareham, Luke Whareham, Charlie Whelan, Kevin Whelan.
Posted on: 24th April 2020