Bob's Ferry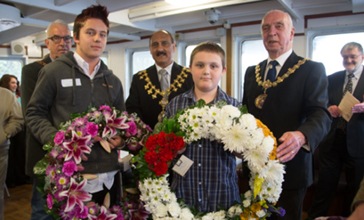 Friends, family and dignitaries gathered on the Manchester Ship Canal to remember those who lost their lives and were injured in the Bob's Ferry disaster in 1970.
Six people died and three were injured when thousands of gallons of petrol which had spilled into the canal exploded as workers made their way to work by boat.
At the time Bob's Ferry was used, as it had been for more than a hundred years, to transport workers on a five minute journey across the canal.
The ferryman Bernard Carroll alerted authorities to the strange smell and a mist making people feel unwell which had prompted him to suspend the service. He then went to help a group of workers who had started to row across the canal when the mile long fire which was 60 feet high hit. Despite his brave efforts, he died at the scene.
Wreaths were laid at the site of the disaster and a two minute silence held during a cruise to commemorate the anniversary. Family, survivors and representatives from Salford Council, Trafford Council, Shell UK, Peel Holdings, The Rotary Club of Irlam and Hamilton Davies Trust paid their respects amongst others.
More than 232 people took the cruise which paused at the site of the disaster before continuing on to Liverpool's Pier Head.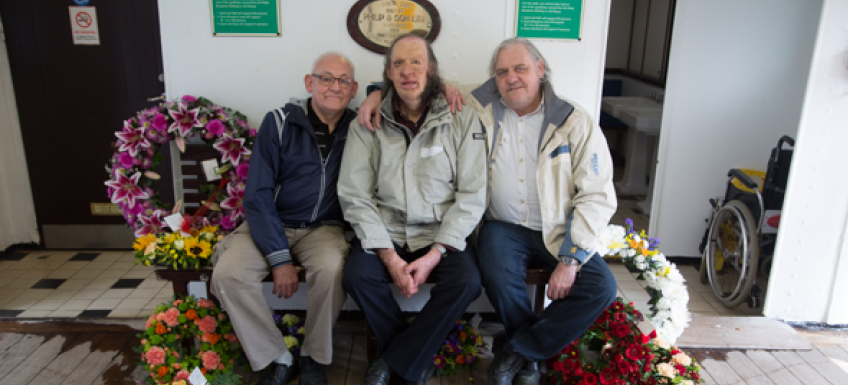 "I was 17 at the time of the disaster four weeks from my 18th birthday, which I spent in Withington Hospital burns unit. I don't remember much about the disaster, I try to put it to the back of my mind. The memorial has meant I've been able to catch up with people I've not seen for a long while and it was nice to see the wreaths being put in the water" Stephen Hunter, Sole survivor of the disaster
"I got married in the January to Jim Fogarty as the disaster happened in the April.  The ferry was closed for 6 weeks following the disaster. Jim ran the ferry for 19 years after Bernard's death and then I took over from my husband following his death.  I ran the ferry for 2 years on my own, then my sons took over in 1990. It was important to keep it in the family. I'm glad something has been done to mark the disaster and pay respect to the lives lost. It has been a long time coming but has given me some comfort knowing that so many people are now aware of the disaster and that memorials are now in place" Dorothy Chalmers, Sister of Bernard Carroll (ferryman)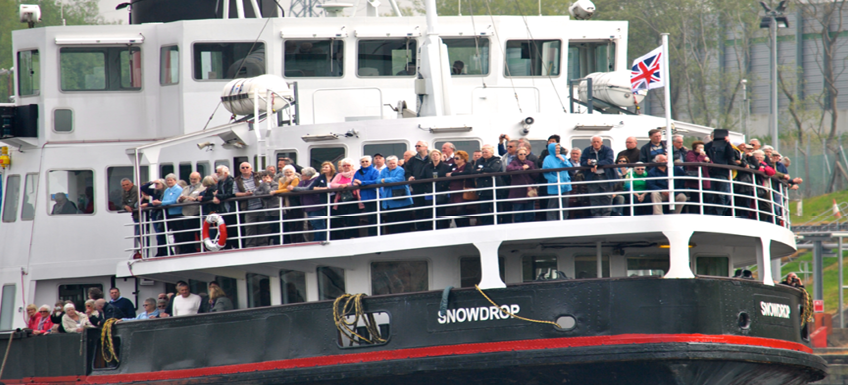 "Today has been a day of mixed emotions for me. I felt the day was very well deserved and I'm so glad everyone arranged it.  It's been a fantastic day, so emotional…..beautiful. My daughter (who was 2 at the time of the disaster) and I went to see the memorials yesterday, we walked there. They are very beautiful. It has helped having the memorial – a lot of tears that needed to be shed." Rita Thomas (Bernard Carroll's wife)
"A deeply moving commemoration. The cruise/guide gave a fascinating insight into the rich industrial heritage of the ship canal and the region." Ursula Sossalla-Iredale, Neighbourhood Manager, Salford City Council
"It's still very sad to remember what happened on the canal 44 years ago. Many of those who died were very young and this cruise to mark the anniversary of the disaster remembered not only them but the courage and bravery of those who tried to help." Neil McArthur the Chair of Hamilton Davies Trust
Posted on: 14th May 2014