Youth Club Transformation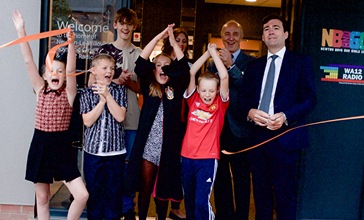 Hamilton Davies Trust (HDT) trustee and donor Graham Chisnall returned to the boys' club he left 50 years ago – to see Greater Manchester Mayor Andy Burnham open its newly revamped premises.
Andy officially re-opened Newton-le-Willows Boys' and Girls' Club (NB&GC), which has been transformed from a run-down building into a first-class youth facility.
The extensive refurbishment was largely thanks to Graham, a NB&GC member in the 1960s, who is now a retired executive of telecoms giant Talk Talk.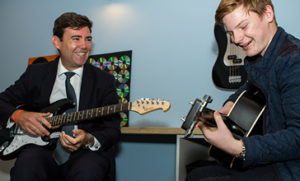 The new centre is now a state-of-the art facility with amenities such as a cinema room, recording studio and radio station, thanks to £250,000 funding from HDT.
Inspired by fond memories of the club, Graham persuaded colleagues at HDT to back the centre. He then project-managed the scheme and became a trustee of the club.
Graham worked closely with club manager Victoria Musk, our staff at HDT and volunteers to make the project happen.
NB&GC is a registered charity, offering sports, music, culture and diverse activities, which is open to young people between the ages of eight and 18.
There has been no significant investment in NB&GC since 1962, when it was opened by singer and showbiz personality Frankie Vaughan.
The club is mainly run by volunteers and relies on donations and fundraising activities to keep going. Before now, there was never enough money to modernise the structure.
Young people helped design the refurbished NB&GC, which has top quality facilities including: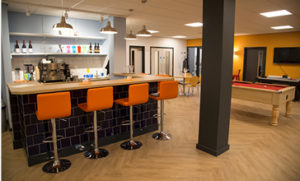 • A cinema room with a 65″ HDTV smart screen for film nights, presentations and awareness projects
• A fully equipped kitchen, where young people will be trained in cookery skills
• A recording studio with modern recording, composing and mixing facilities, mics, stands, speakers, guitars, drum kit and keyboard
• A gaming room with the latest games consoles and HD TV screens featuring surround sound
• A sports hall for a wide range of games and sports
The club was very different when Graham first attended back in 1964. He remained an active member for five years and says a reference from the then club leader helped him get his first job.
Graham, aged 62, said: "I had very happy times at NB&GC. It was a big support to me in my youth and helped me develop the confidence to succeed in my later life."
"When I walked in again for the first time in years, it was a little down-at-heel, being run by a team of excellent volunteers with little financial backing. I decided I had to put it back on its feet.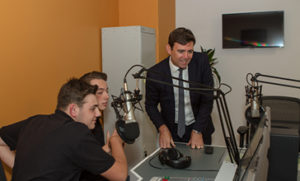 I wanted the younger generation to have the support I had and enjoy first-class facilities."
Graham added: "I feel privileged and very happy to have been able to help the club that once helped me. It's a great feeling."
Andy Burnham, who was educated at St Aelred's Roman Catholic High School in Newton-le-Williows said: "Thank you to Graham, Victoria and all the volunteers for giving the youth club a well needed refurbishment. The wide range of activities now available is fantastic and I hope the young people who come here enjoy them for years to come!"
Posted on: 20th September 2017