WIN a signed United shirt!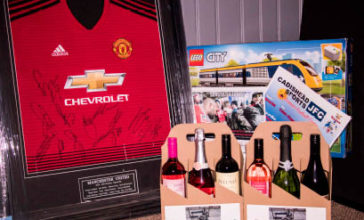 We are delighted to announce our latest raffle, with a chance to win a framed Manchester United Shirt, signed by the following first team stars: Marcus Rashford, Paul Pogba, Ander Herrera, Ashley Young, Juan Mata, Fred, Victor Lindelof, Eric Bailly, Scott McTominay, Diojo Dalot, Serjio Romero and Marcos Rojo.
Other great prizes up for grabs include: a Lego train set worth £120, 2 assorted cases of wine, a Salford Reds Family Ticket (2 adults and 2 under 16's tickets) and a place for one young person at Cadishead Sports summer camp.
Raffle tickets cost £1 each or £5 for a book of 5.
You don't have to be local 'to be in it to win it' as you can buy raffle tickets in a number of ways – details below.

If you buy tickets online or via bank transfer, please ensure that you email [email protected] with your details so that we can send across your ticket confirmation and can contact you if you're a lucky winner! Please allow 5 working days for your tickets to be emailed to you. If you can't find the confirmation email within your inbox, be sure to check your junk folder.
The deadline for purchasing tickets from Hamilton Davies House, via BACS and our Go Fund Me page / online is 4pm on 6th June to enable us to process all payments and tickets.
The prize draw will take place at 7pm on Wednesday 12th June, with tickets available for purchase up to 6pm on the night from the Black Swan.
All proceeds from the raffle will contribute towards the Save the Man on the Bench campaign. For more information about the campaign to and see our community video visit our Go Fund Me page.
We would like to say a massive thank you to all of our prize donators: Manchester United Foundation, Irlam Arts & Framing, Creative Hut, Kingsland Wines, Salford Reds and Cadishead Sports.
If you would like further information, please contact the office on 0161-222-4003 or [email protected] .
Don't miss out, get your tickets today! Good luck
Posted on: 12th April 2019