We have some winners!
After months of promoting and selling raffle tickets for our Save the Man on the Bench prize draw, we were delighted to present the prizes to the winners, and to film this live on Facebook at our annual event.
We hosted more than 100 guests including Simon Law, the creator of the original sculpture of the Man on the Bench in 1978, who thoroughly enjoyed drawing the winning tickets.
Simon Said: "Thank you so much for inviting Fiona and me along to your celebrations last night and for asking me to draw winners for the raffle – it was an honour. I have been completely blown away by the unwavering commitment HDT (including Eric!) continue to put into the Man on the Bench project."
Here are the lucky prize winners:
Eric Lowndes, Irlam – Manchester United shirt (donated by the Manchester United Foundation)
J Thomas, Hollins Green – Manchester City shirt (donated by Manchester City in the Community)
Millie McWilliams, Irlam and Cadishead Academy – Lego Train set (donated by Creative Hut)
Carol Parkes, Astley – Assorted case of wine (donated by Kingsland Drinks)
Mike W, Irlam – Assorted case of wine (donated by Kingsland Drinks)
Joseph Lockley, Irlam – Salford Reds Family Ticket (donated by Salford Reds)
Bernard Daniels, Irlam Rotary – Football Summer Camp (donated by Cadishead Sports)
Jeff Percival, Cadishead – Salford Reds Retro top and mug (donated by Salford Reds)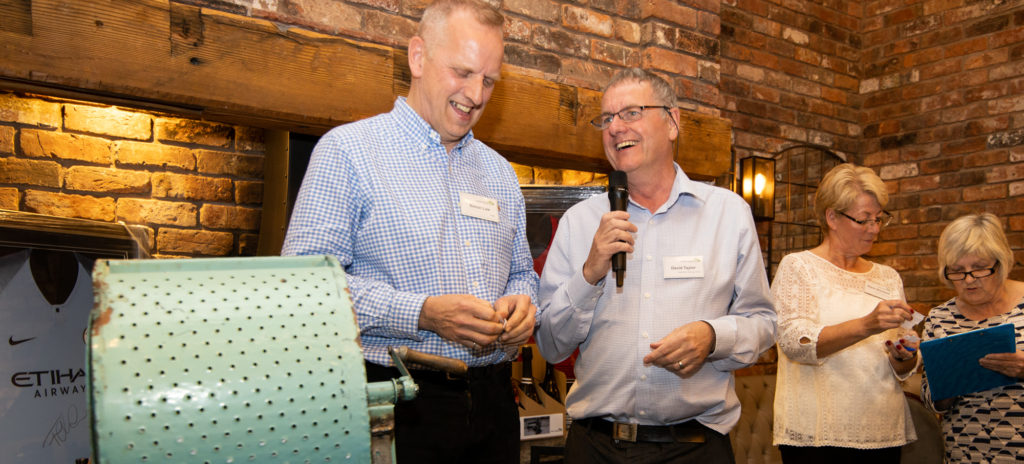 The first name out of the drum was Eric Lowndes who chose the Manchester United shirt. The exciting thing was, Eric, a huge Manchester City supporter, chose the United shirt as he thought that if he donated it back to HDT it could raise even more funds for the Save the Man on the Bench campaign. When Jack Donohue from Fairmont Recruitment heard about Eric's gesture, he offered to buy it off HDT for £300. How kind is that!! Thank you to both Eric and Jack – we really appreciate it.
Jack Donohue said: "The Man on the Bench is such a great community project and with HDT doing so much to raise funds for his restoration, I wanted to do my bit."
Many thanks to Eric for the kind gesture he made regarding the United shirt, and also for his generous donations and support with the fundraising campaign, which was originally his idea.
A special thanks to all of our prize donators listed above, without the prizes the raffle wouldn't have been possible. And also big thanks to all those who helped sell raffle tickets including the Black Swan, the Red Lion, Bready to Go and Irlam and Cadishead Academy and local schools, Cadishead Sports JFC and many more.
Thanks to Rixton-with-Glazebrook Community Hall for the loan of the prize drum, which made sure that all of the tickets were thoroughly mixed for the draw.
We hope that all of the winners enjoy their prizes!
Posted on: 14th June 2019