United stars score an educational goal at local schools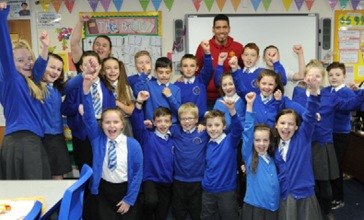 Three Manchester United players delighted local fans when they visited two Irlam and Cadishead primary schools this week.
Chris Smalling, Luke Shaw and Matteo Darmian popped into St Joseph's the Worker and Moorfield Primary schools, where they met children aged between 6 – 7.
The players posed for photos as well as chatting with the children about their experiences playing for Manchester United and joining in some fun games.
The visit was organised by the Manchester United Foundation (MUF), which promotes sports, educational and personal development in the 9 primary schools in the area.
Karla Threlfall, Marketing Apprentice at Hamilton Davies Trust said: "It was great to see the reaction of the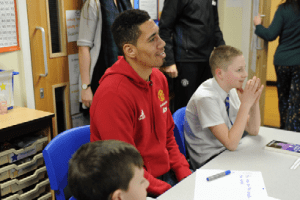 children when the players walked in, they were star struck and so excited!"
Leo, aged 6, said: "It was great. I loved it when Smalling came in and was doing the dribbling."
Nevaeh, aged 7, said: "I liked the football players coming in and my favourite activity was knocking the balls off the cones. I got 2 out of 3!"
Mason, aged 7, said: "I was shocked to meet the actual players. We had lots of fun doing the activities – the players were fun and friendly. My favourite part was when I interviewed Matteo Damien and then he interviewed me!"
Louie, aged 6 – "It was great! I enjoyed finding out about the footballers favourite books, it will inspire me to read more. The best part was sitting next to Chris Smalling and Luke Shaw and getting to high five them."
The visit followed a recent £22,000 investment by Hamilton Davies Trust (HDT) in its longstanding partnership with MUF.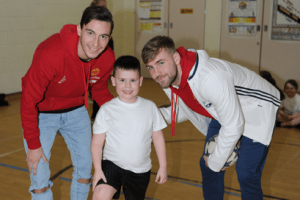 Jon Shiels, CEO MUF, said: "Without HDT's support we couldn't do the work we do in Irlam and Cadishead. It is great to see the influence that our programmes and staff can have. For a lot of those kids and the community, yesterday will be real memory tin stuff, the day a Manchester United player came to their school! Real magic dust!"
The two organisations started working together in 2010, since then HDT has provided funding of more than £150,000 for the delivery of sessions to more than 5,500 school children, college students and community group members.
In addition to the visits in Irlam and Cadishead, a number of United players visited other schools across the Greater Manchester area as part of a MUF's education engagement programme.
Posted on: 10th February 2017