Station Park steps up to the challenge!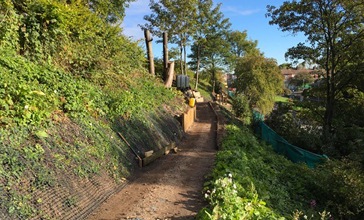 With pathway groundworks nearly complete, the once overgrown station embankment is gradually being transformed into a new park area for all in the district to enjoy.
Working on the embankment's steep gradients has not been an easy task, but the heavy work is almost done, and the park is gradually beginning to take shape.
The new gently undulating pathway from Liverpool Road now provides level ground on which to walk through the mature trees and green landscape. As the path opens-up onto a wider flat area, the park takes on a different shape and feel and offers higher-level views of the district.
From this plateau, steps will continue up through the park to meet the path running parallel to Station Road that will then connec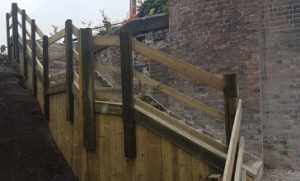 t with the car park pedestrian walkway leading to the station.
Residents and visitors to the area will have to wait a little bit longer, however, to enjoy their new park as it will not be open to the public until Phase 2 works are completed.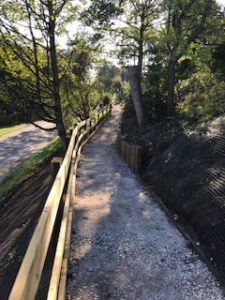 Plans and designs are currently being drawn up for the second phase of works to the park which is scheduled to commence in the new year. These will include a welcoming entrance from Liverpool Road; seating along the path and at the higher level; further landscaping and something uniquely magical and interesting for the young at heart to enjoy!
They say good things are worth waiting for, so watch this space and prepare to be pleasantly surprised!
Posted on: 31st October 2018