#SaveTheManOnTheBench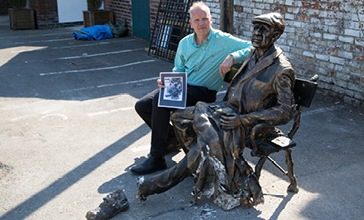 Please will you help us to restore and breathe new life into the beautiful man on the bench sculpture?
The man, with no name, who has been part of our community for 40 years was unfortunately damaged by vandals and sustained injuries which include a broken leg and a heavy heart. He has been in hiding ever since.
The full-scale replica of the man in a flat cap relaxing on a bench was designed and produced by Simon Law, a talented local school boy studying O'Level Art at Irlam High School in 1978.
He imagined the man had taken his dog to the park after a hard day at work and sat on the bench to rest awhile and watch the sun go down. This perhaps explains why he looks so tired, and thoughtful.
The sculpture entitled 'At the End of the Day' and known locally as 'The Man on the Bench' was on proud display at Irlam High for years, before it had to be rehoused due to school refurbishments.
We were lucky enough to become guardians of the statue in 2016 and took him under our wing as part of the I C Art public art programme. With the help of volunteers and over 140 hours of research and artistic input, the man was restored and took pride of place on the platform at the front of Irlam Station House, where he won a new audience of commuters and visitors.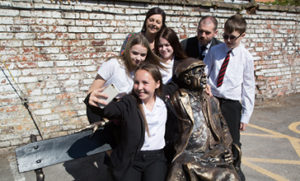 Simon, now a senior design manager for John Sisk and Son, said: "I was very pleased with the way the original sculpture came out, but I never expected it to be around for another 40 years. It looked perfect at the station, like it was waiting for the next train. Passengers saw it every day. It was like a local celebrity."
Simon added: "I was devastated when I heard what the vandals had done to it, devastated. If we can recast it into bronze and make him more robust, that would be astounding."
Often thought to represent a tired shift-worker from the town's now defunct steelworks, 'The Man on the Bench' has come to symbolise the regeneration of Irlam's Station House from a run-down building into a vibrant community hub.
HDT are keen to not only get him back on his feet, but to make him stronger than he has ever been, so that he will live forever and avoid further damage. And to keep him company, we would like to provide him with a four-legged friend.
He would then be placed back within the community where he loves to relax and watch the world go by; keeping commuters company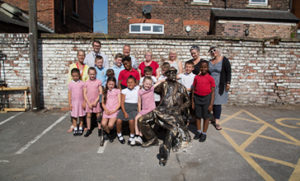 whilst waiting for their train at Irlam Station, as well as enjoying being a #selfie hit too.
Mandy Coleman, Consultant General Manager of HDT, said: "At the End of the Day is an incredible piece of art. It looks like it was created by a well-known professional artist, rather than a talented schoolboy.
"Generations of local people have loved it and then it got a whole new fan club at the Station House. It has become a kind of symbol of both Irlam's past and how the area is being regenerated.
"Everyone was shocked and disappointed when it was vandalised. To mark its birthday, we want to recast it in bronze ideally, so it will survive for years to come."
HDT are leading the fundraising campaign and are looking to raise £17,950 to create the man in robust and sustainable material, with a number of options being investigated. We have recently submitted a funding request to The Arts Council.
We would also like you to be a part of this wonderful sculpture and piece of history and so we have set up an appeal page: www.gofundme.com/manonthebench. Your donation would be most welcome and gratefully received.
Posted on: 17th August 2018