Are you litter-picking good?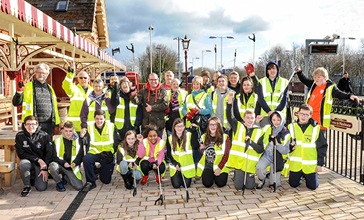 Litter-free streets and public spaces say a great deal about a community and the people who live and work in it.
It's also true that litter-strewn town centres and neighbourhoods are extremely unattractive for the majority of people who live there and also to visitors and people looking to move to an area.
Your area needs you now! We would be delighted to hear from anyone – individuals, schools or other organisations – who have a few hours each month to spare, to support the different litter pick initiatives to keep Irlam and Cadishead tidy.
Local people don't have to join a group to do their bit for the community. They can help with organised events or alternatively can carry out voluntary litter picking in the street where they live. Also, prevention is better than cure – so if you have any ideas on how to stop people dropping litter then please get in touch. Any contribution can and will make a difference.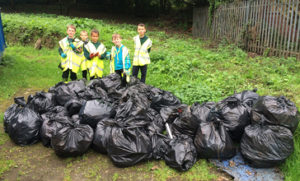 Even though Irlam and Cadishead are fortunate to have a small but dedicated army of individual volunteers and partnership organisations working unstintingly across the area to try and keep it clean and tidy, there is still a great need for more help.
This is something we are keen to be involved in, and between January 2016 and July 2017, we organised a total of ten litter picking events, collecting more than 150 bags of litter at Irlam Station, Irlam College, Cadishead Park, Princes Park, Irlam Linear Park, Higher Irlam, The Firs and Liverpool Road.
All types of groups and individuals contributed to these super efforts. Among them were Cadishead Rhinos, Friends of Irlam Station, Positive Moves, Irlam and Cadishead Litter Picking Group, Irlam and Cadishead College, Cadishead Sports, Irlam FC, Cadishead Youth Club, Greater Manchester Police, Irlam and Cadishead Cubs and Scouts, COSSSC, Irlam JFC, and Majic Sport.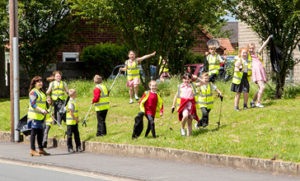 Tony Prescott, Operations Manager at Hamilton Davies Trust (HDT), said: "To be able to solve the litter problem, it's essential to encourage more people to do their bit to keep our community litter-free."
We aren't alone in this quest. A brilliant example of local people rolling up their sleeves to make their area a better place is Janet and John Morgan who coordinate the Irlam and Cadishead Litter Picking Group. The group meet regularly to work on specific areas requiring their attention.
Meanwhile, children from across the area have also gained top marks for their litter-picking prowess. St Teresa's RC Primary, Cadishead Primary and St Helen's C of E Primary, were among local schools whose pupils have taken part in clean-up activities.
Tony Prescott said: "It's great to see children taking an interest in their environment and making their area a better place to live, work and enjoy."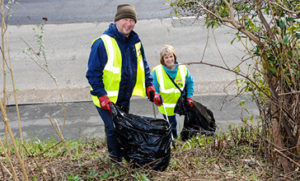 How you contribute is up to you, it doesn't have to be a specific event or a group initiative. A shining example of individual activity is Barry Hampson, who received a community award at our annual event in July in recognition of his sterling work as the area's very own 'Lone Litter Picker'. Working on his own initiative, Barry can often be seen clearing up litter on Cadishead bypass. He embarked on his one-man-mission after recovering from a long illness.
Tony said: "Sometimes Barry wonders if it makes a difference, but we have certainly noticed his efforts and wanted to say a big thank you."
Anyone who would like to get involved in litter picking or has ideas for prevention of litter being dropped, please get in touch.
Call: 0161 222 4003 Click: [email protected] Visit: www.hamiltondavies.org.uk
Posted on: 26th September 2017