It all kicks off at Cadishead Rec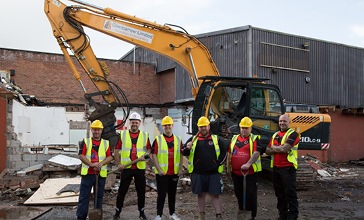 The long wait is over! Work has finally started on the Cadishead Rec redevelopment site paving the way for the Rhinos new clubhouse.
The works kicked off last week when the demolition contractors Schofield and Sons set up on site. Demolition of the dilapidated structure is now underway and expected to take around 3 weeks.
The cleared site will make way for a state-of-the-art facility for the Cadishead Rhinos Rugby League Club, which will bring with it flexible changing rooms, enabling the club to establish female only teams and attract even more young people.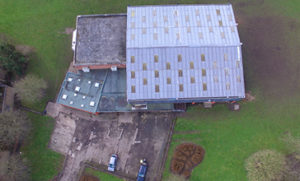 The project was made possible when funding was secured last year with £150,000 coming from Sport England, £100,000 from Salford City Council, £300,000 from Hamilton Davies Trust (HDT), £15,000 from Salford Community Leisure and a further £15,000 from Cadishead Rhino's fundraising.
Graham Chisnall, HDT Trustee said: "We wanted to provide funding to ensure there was enough finance in place to build the new, fit-for-purpose clubhouse with modern facilities to hopefully keep the club thriving for future generations."
The old building was in very poor condition, which meant it did not meet league requirements and wasn't a nice place for the 12,000 people that use the facilities each year.
Graham continued: "It's has been a long time coming, but I am delighted to finally get the contractors on site and the ball rolling."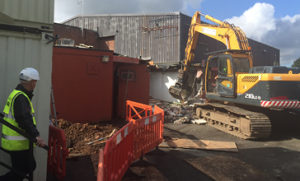 Paul Elliott, Rhinos Head Coach and Secretary said: "I'm very excited to see the work starting on the new clubhouse and thankful for all the help and hard work of our funding partners at this stage. The new facility is going to be a great asset to the community and a fantastic new modern home for our rugby club."
The Rhinos have been based at the former local authority centre at Cadishead Recreation Ground on Lords Street since the mid-1990s, but the clubhouse has never really been fit for purpose. Nevertheless, the club have gone from strength to strength over the years, attracting large numbers of juniors.
Councillor David Lancaster, Lead Member for Environment and Community Safety at Salford City Council said: "We managed to secure £100,000 of funding towards the upgrade of Cadishead Rhinos clubhouse and it's fantastic that through this partnership approach the demolition work has begun. Almost half of this money has come from Section 106 money which is paid by developers to reduce the impact on local people. The new clubhouse will benefit the whole community for generations to come and we can't wait to see it officially open."
Posted on: 13th September 2017