iTea and Biscuits Success!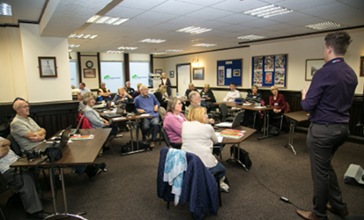 Our final iTea and Biscuits course of 2014 went out with a bang! It was a huge success with more than 40 people completing the course, which was our largest intake to date.
Held at Hamilton Davies House, we had the pleasure of running two sessions every Thursday for eight weeks in order to accommodate everyone who wanted to attend.
ITea and Biscuits offers learners hands on experience to develop their digital skills and confidence with help and support from IT mentors. Everyone is welcome, whether a regular surfer or complete beginner!
"I attended the computer course at Hamilton Davies House and found it very enjoyable, informative and useful with my ipad. Thank you to David Taylor and the volunteers for their help and not forgetting Sharon for the tea and biscuits."  Susan Cooper, Learner
Examples of subjects covered on the course have included:
How to get online
Digital photography
Internet security
How to set-up and use email
Internet shopping and banking
Job search and training online
Mobiles, kindles and iPads
Social Media
BBC iplayer and TalkTalk TV
 "I attended the iTea and Biscuits course and it has helped me immensely and I would like to thank the HDT team and volunteers for their support and patience. It has helped tremendously and I will recommend it to my friends." Anne Harvey, Learner
We would like to say a massive thank you to all of our volunteers for their valuable contribution to the last course. Volunteers included local companies: TalkTalk, Brooks, Kingsland Wines, as well as individuals including Maurice Cullen, Josh Blackwell, Jim Mather and Dave Alletson (Rotary Club).
"I strongly believe that iTea and biscuits is a great course and very relevant to the current technological advancements. It gives to me great joy to not only contribute to the community, but to also pass on the skills I was lucky enough to learn at a young age. Not only is it enjoyable for me, but I learn a great deal about communication and how it can be adapted to different audiences, but seeing those attending the sessions smiling and having fun whilst undertaking new ventures is a great feeling." Josh Blackwell, Volunteer
"We're delighted this course is proving so popular with the community and it's great to be working in partnership with local businesses on it. It's completely free and people, especially those for which computers are new, are getting so much out of it. So much is online these days and it's fantastic to see people learning the skills they need to join in with the online revolution." Neil McArthur the Chair of HDT and founder of TalkTalk
We are very excited for our next course, which will start on 29th January 2015 and run for 8 weeks. If you would like to find out more about iTea and Biscuits or enrol on this free course, please give us a call on 0161 222 4003.
Posted on: 21st November 2014