Irlam Station Souvenir Newspaper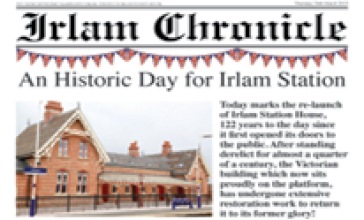 We are delighted to present you with our first ever newspaper: the Irlam Chronicle.
Produced as a souvenir to celebrate the launch of Irlam Station House, the Chronicle documents the journey that the station has been on since its first arrival in 1873. It shows the intrinsic nature of the station in the past and how it was once a bustling hub not just for general rail users but for local industries. Now a wonderful and fully functioning facility at the heart of our community, Irlam Station has made many stops along the way to reach its now beautiful destination.
We had great fun pulling this together and wading through the mass of information available, not just on the station, but the area as whole.
If you are interested in Irlam Station, Irlam and Cadishead or even just rail travel, the Irlam Chronicle is a great read and will take you on a trip down memory lane.
Download your copy today! We really do hope you enjoy reading it as much as we did producing it!
If you have any feedback, we would be delighted to hear from you. Please get in touch ensuring you put 'Irlam Chronicle' in the 'Subject' box.
Posted on: 12th June 2015