HDT celebrates 10 years!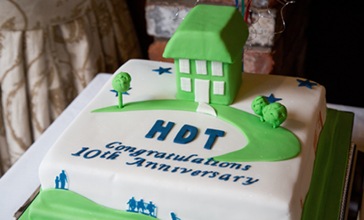 Nearly 200 people, including many of the residents and Community Groups in Irlam, Cadishead and Rixton-with-Glazebrook gathered with us to celebrate 10 years of the Hamilton Davies Trust.
The event which was held at the Black Swan in Hollins Green, gave an opportunity to congratulate the community organisations, groups and residents who have worked tirelessly and passionately both independently and sometimes with us, over the last decade to improve the area.
Guests entered via a red carpet and were greeted with a glass of bubbles before being treated to entertainment from Simon Roscoe, the band with no name, Cadishead Band, DJ Steve Givens and magic from John Harding. Guests enjoyed a barbecue and live music, whilst photographs were taken of the evening to capture moments not to be forgotten.
Over the past ten years, HDT is proud to have provided support in excess of £4m to the local area and this includes over 400 grants to community organisations and regeneration projects.
"It was a fabulous evening and great to celebrate the achievements delivered by both the HDT Team and our volunteers and by local community groups too. We were delighted to recognise the great work performed by the members of the community who have had a tremendous impact on the ground through their commitment to volunteering and making the area a great place to be. In addition, HDT has been instrumental in the creation of the new leisure centre, providing post-16 education to the area and now the regeneration of Irlam Station. We have so much more to do and we're looking forward to the next 10 years!" Neil McArthur, HDT Chairman
"I am so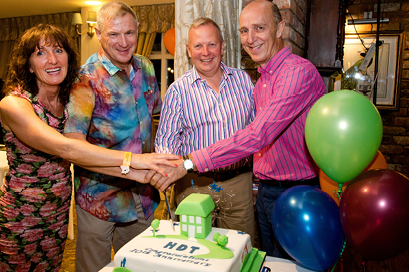 grateful for the invitation to the 10 year anniversary. I enjoyed the evening immensely, we were treated like queens and kings. The food was delicious, drinks flowing and entertainment fabulous. The whole evening was a pleasure. Roll on 20 years! "
Debbie Kemp, Irlam and Cadishead Health Improvement Team
"We would like to say a big thank you to HDT for a wonderful night at the 10 year celebration evening. The ambiance was superb, we felt like royalty walking down the red carpet. The entertainment was great with the mix of classic brass band and popular music dished up by the DJ. Even I had a dance or two, which is a one off. The team made everyone feel at home from the moment they arrived and looked after us all throughout the night."
Alan Cavanagh, Rotary Club of Irlam
Posted on: 18th September 2014