Free Art Friday – finders keepers!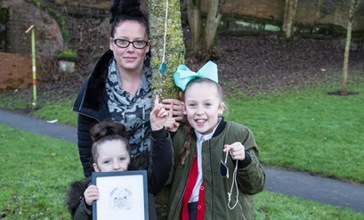 The worldwide art initiative 'Free Art Friday' arrived in Irlam and Cadishead recently and local people are already taking home stunning pieces of free art!
The movement is based around the concept of hiding a piece of art in a public place and giving out clues of its location on social media.
The first person to work out the clues and find the art gets to keep it. The only condition is that the finder takes a selfie and posts it on our Facebook or Twitter page, so the artist can see their appreciation.
Free Art Friday is being delivered in Irlam and Cadishead by I C Art, a programme funded and created to bring urban art to the area by HDT.
Rachelle Cleary, Artist – I C Art said: "Free Art Friday is not a new concept. For the last few years many artists across the world have been making art and leaving it in public places for others to enjoy.
"The piece of art can be anything creative, ranging from a painting to a sculpture or even a knitted object, but must be made by the donator. Items up for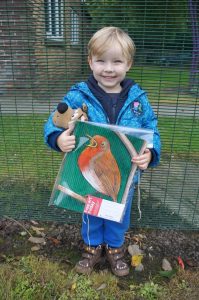 grabs are donated by local people who might want to get their work noticed or simply make someone smile."
The first piece of art in the Irlam and Cadishead initiative entitled 'the Robin' was a painting donated by local artist Jane Edwards who was inspired by a robin that followed her around the garden.
Jane is an accomplished artist who has had pieces accepted by the Royal Academy Summer Exhibition and Manchester Fine Art Gallery. She was also a regular finalist in BBC North West's art competition and contributed to the Olympic Big Art Exhibition at the Castlefield Gallery in Manchester, amongst other achievements.
'The Robin' was left casually hanging on a fence near Cadishead Youth Club in October and was claimed after around an hour by local resident Sue Hammond and her son Jacob Lee aged 3 ½. Sue took a picture of her son and shared it on HDT's Facebook page.
Sue said: "Jacob and I were out for a walk and one minute were watching a robin and next were the owners of this fab robin artwork. He is one very happy little boy and this will sit with pride in a frame on his bedroom wall. Thanks so much to HDT and Jane Edwards, this made our day and is such a wonderful idea. We are certainly telling everyone!"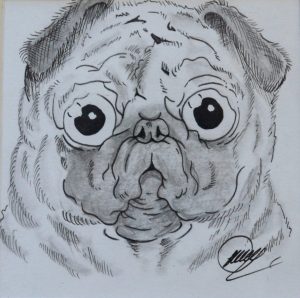 The initiative returned in November when 'The Pug' – a picture of a cute pug dog by local artist Frank Cleary was placed at Irlam Station and found within a couple of hours.
Frank Cleary, creator of the pug said: "I love drawing and I like pugs. I knew this little fella would make someone smile that's I why I drew him and popped it in a little frame for Free Art Friday."
Getting in the Christmas spirit of giving, HDT decided to give away four pieces of art at the start of December. 'The Birds' created by Carolyn Page and produced in stained glass were left hanging from a tree locally and were claimed within 24 hours.
Kimberly Horn was the lucky finder of the little pug sketch whilst she was visiting Irlam Station and she also found 'The Birds' a few weeks later. She had never heard of the initiative before, but since reading about it, finds the concept exciting and can't wait for the next piece of art!
Kimberly said: "I am really happy with the art I found and so are my daughters Bethany and Maisie-Jae. Thanks so much to the artists Frank Cleary and Carolyn Page who definitely put a big smile on all of our faces".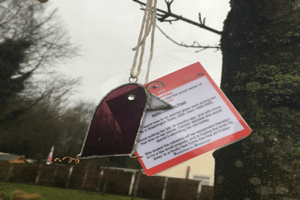 Dawn Kehoe, HDT Marketing Manager said: "We were thrilled when Sue Hammond got in touch after finding our first piece of free art – even better such a lovely story surrounding it. That's the idea behind it all, the artwork brightens someone's day and makes them smile. And the artist feels appreciated knowing that their creation is being enjoyed!"
If you have any items for the #freeartfriday initiative or would like to create and donate a 2D or 3D piece – then we would love to hear from you! Please contact Karla on 0161 222 4003 or [email protected]
Posted on: 30th January 2017