Community Stars Commended!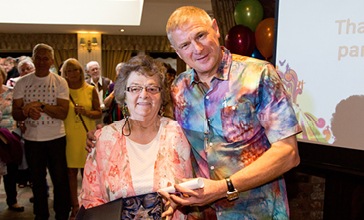 HDT celebrated its 10 year anniversary with nearly 200 people mainly from the local communities of Irlam, Cadishead and Rixton-with-Glazebrook. As part of the anniversary event, we wanted to say a massive thank you to some of the stars amongst our local communities and surprised them with an award in recognition of all their hard work.
"We are delighted, encouraged and humbled by the amount of hard work and wonderful results that many people in the area deliver and wanted to recognise this and to say a big thank you to them. Our team in HDT look forward to trying to deliver more with the community through the help of even more volunteers than we currently have." Mandy Coleman, HDT Consultant General Manager
Here's a snapshot of the awards presented:
Alan and Ann Cavanagh's award was for making a difference through their joint and individual achievements in Irlam and Cadishead. For their contributions to the Friends of Irlam and Cadishead Parks including the Old River pathway, Horticultural Society, Rotary Club of Irlam, In Bloom project, Irlam and Cadishead Community Committee and of course their ever cheery smiles and wonderful hotpots!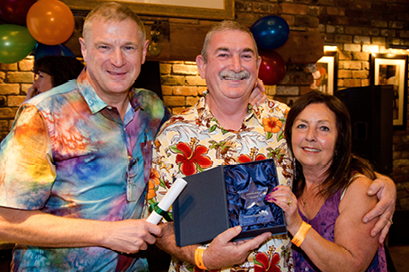 "The 10 year celebration evening was superb we really enjoyed it. To cap it off for us both was the presentation of our Community Award; it took us both completely by surprise, what an honour! Particularly when you think of the number of people in the area who put so much time and effort into making Irlam and Cadishead a better place to live, work and play. We would like to thank HDT for a wonderful night, one that will stay with us forever and hope we will be around to celebrate your 20 years of wonderful support to the community." Alan Cavanagh, Rotary Club of Irlam
Harold Bate was recognised for his 46 years commitment to Rixton-with-Glazebrook's Community Hall including contributions as Secretary, Treasurer, Hall Manager and Booking Manager. His input and support to the Rixton Tennis Club and Hollins Green Indoor Bowling section has provided years of social activity for many.
Colette Fairfax's award was for making a difference to Rixton-with-Glazebrook through her contributions and commitment to Pre-school, Hollins Green Scout Centre, St. Helen's School, the Community Book Exchange and Parish Plan Group. For unstinting community spirit and willingness to give time, support and encouragement to others of all ages.
Allan Whitfield was recognised for his passion for Irlam and Cadishead including active contribution to the Rotary Club of Irlam, Cadishead Youth and Community Association. For being a committee member and driving force behind the Irlam Festival for over 10 years.
"A million thanks to HDT for the community award, it will take pride of place alongside my parrot. It has been an honour to work alongside such a dedicated group of friends and like-minded individuals. Long may we support this fine district in which so many of us were born and bred. Long live Irlam, Cadishead and Rixton-with-Glazebrook. Roll on the next ten years!" Allan Whitfield, Rotary Club of Irlam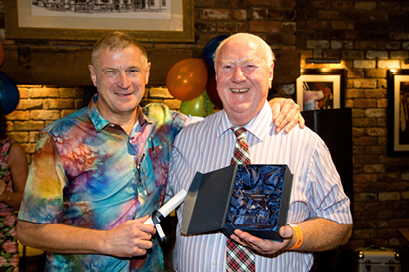 Irlam and Cadishead First Responders Keith and Olwen Hanson were awarded for their commitment to actively promoting emergency life support, delivering regular Heart Start Courses to individuals and groups and for 'Going the Extra Mile'.
"We were very pleased and surprised, in fact gob smacked to receive the award. We are going to frame the certificate. We have been working with the community of Irlam and Cadishead for a long time. The working relationship we have with HDT is great and this has really helped us to promote our projects." Keith Hanson, Irlam and Cadishead First Responders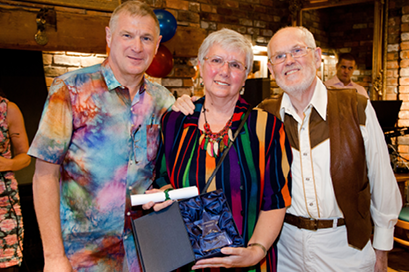 Joan Hill was recognised for her passion for Irlam and Cadishead and contribution in documenting and sharing the history of the area. For her support of Friends of Hollinfare Cemetery and for being a good friend to HDT and keeping the team supplied with boiled sweets and unique and personal knitted goodies!
Friends of Hollinfare Cemetery received an award for making a difference to Hollinfare Cemetery through their commitment and engagement of over 40 volunteers of all ages. Improvements and the Grave Tending Scheme are vastly enhancing the look and feel of a prominent public green space within the centre of the parish.
Pete Higson was recognised for making a difference through his passion for Rixton-with-Glazebrook including contributions to the Friends of Hollinfare Cemetery, the Rixton-with-Glazebrook Parish Plan Group and respective Action Groups. For his unstinting community spirit and willingness to engage with and encourage volunteers of all ages.
Sylvia McDowell was recognised for making a difference to Irlam and Cadishead through her work with ICY (Irlam and Cadishead Youth) and 'Referred Young People' and their families. In particular for her passion for supporting young people and the challenges they face and the creative and effective ways she develops their self-esteem, confidence and involvement in sport and recreation.
Posted on: 18th September 2014