Community Stars Awards 2017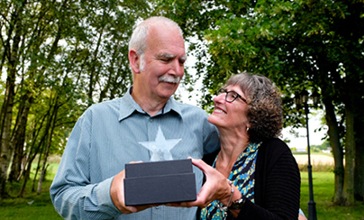 The tireless and selfless commitment of local stars was recognised by the presentation of Community Awards at our annual event on 5th July.
Outstanding contributions to the community were applauded by more than 120 people who attended the celebration, now in its fourth year. Recipients were pleasantly surprised with their awards as they were totally unexpected.
The event was attended by civic leaders, representatives of our partner organisations, and members of the communities of Irlam, Cadishead and Rixton-with-Glazebrook.
"It's tremendously uplifting to see so many local people doing so much for others in a variety of different ways." said Dawn Kehoe, Marketing Manager at HDT.
"We believe this public spirited generosity should be acknowledged and celebrated, which is why our annual awards have become such a key date in the community calendar of Irlam, Cadishead and Rixton-with-Glazebrook. Just as crucially, by recognising this vital work, we hope to inspire other people to come forward and get involved." added Dawn.
Here's a brief summary of the 2017 awards:
James Taylor received an award for his invaluable IT and technical support. James is our go-to guy when we come up against technology-related issues we can't sort out ourselves. James has generously supported us since 2008, despite having a very busy job with a lot of responsibility, plus a wife and two children.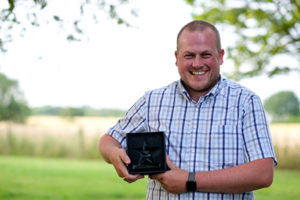 Sue Lightup was recognised for her passionate commitment and unstinting work as Chair of Governors at Irlam and Cadishead College. Sue has helped us with many of our community litter picks and wants to get even more involved with conservation – she is almost as busy now as she was before she retired!
We were delighted to see Steve Harrison pick up an award for his impressive dedication to voluntary work. Despite having to stop working due to health issues, Steve contacted us to ask how he could help the community. Since then he has clocked up more than 80 hours volunteering for many projects and initiatives, including: gardening, improving the HDT car park, and litter picking.
Josh Blackwell was recognised for his generous contribution of time and skills to a wide range of projects. Josh is a full-time student at Bangor University, yet he still found time to spend more than 80 hours working on activities such as creating a database to improve our reporting capabilities, providing support at iTea & Biscuits and assisting with our office revamp, as well as annual event set ups (including this years!). A young man of many talents, Josh has even acted as a model at a photo shoot for the launch of Irlam Station!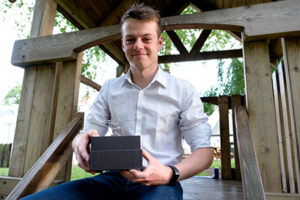 Margaret Vaudrey's award was our way of thanking her for contributing her writing and editing skills to a number of projects. We met Margaret when she edited and proof-read the fabulous 'Two Towns' book. Since then she has provided invaluable help as a writer, editor and researcher of local history and key landmarks. In addition Margaret has supported our production of four heritage boards; helped with writing the Irlam Chronicle newspaper; taken part in regular litter picks; and is a Friend of Irlam Station.
A special award was presented to Ged O'Connor on behalf of the Volunteer Drivers Group, which transports cancer patients to and from hospital appointments. This is a crucial service that has been up and running for four years, during which time more than 950 trips have been made, totalling more than 18,000 miles. The group have raised over £11,000 to cover motoring costs, with local companies, patients, and Rotary making generous contributions.
Barry Hampson's award recognised his sterling work as our very own 'Lone Litter Picker'. Working on his own initiative, Barry can often be seen clearing up litter at the Cadishead end of the bypass. He embarked on his one-man-mission after recovering from a long illness. Sometimes it's Barry who wonders if it makes a difference, but we have certainly noticed his efforts and wanted to say a big thank you.
An award was presented to Frances Henry, Chair of the Lady James User Group Committee, to celebrate her tireless fundraising activities that have raised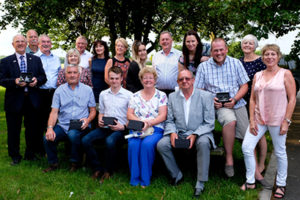 thousands of pounds through various funding streams, to keep Lady James Hall going. Recently, Frances devoted more than 150 hours to completing just one, of many application forms. She is committed and determined in her pursuit of funding for whatever cause she is fighting for, as well as being an active member of AAARD, a group passionate about preserving the local green belt. Just as importantly, Frances is also a primary carer for her husband, who suffers from dementia.
The final award that went to the Rotary Club In Bloom acknowledges one of the most popular initiatives our area has had the pleasure of benefitting from. In 2012 Rotary Club members Peter Fillery and Alan Cavanagh came up with an idea to brighten up the district with flower filled hanging baskets and planters. We agreed to provide a grant to get this wonderful initiative off the ground. In the same year, sites for plants were identified and agreed with businesses along Liverpool Road; brackets and watering systems were installed; and the first beautiful floral displays hit Irlam and Cadishead. The Rotary 'In Bloom' project has now been in operation for 5 years and every year gets bigger and better. This year's display includes an astonishing 130 hanging baskets, 118 lamp post baskets and 40 floral troughs.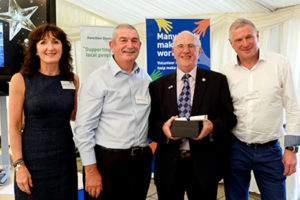 "We are delighted to get recognised for In Bloom as a lot of people think it's the council who deliver the project. There are tonnes of hours that go on behind the scenes to prepare and maintain the flowers, including around 5 hours each Sunday watering the growing number of baskets and troughs. We are over the moon with the award and hope the initiative continues to grow." David Taylor, Vice President – Rotary Club of Irlam
If you interested in volunteering, then why not get in touch?
Posted on: 11th July 2017