I C Art Competition Winners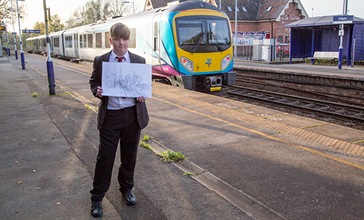 Judges had some tough decisions to make when picking the winners of our community art competition to celebrate the recent opening of I C Art's great new studio in Lower Irlam.
Local people with artistic flair were asked to demonstrate their creativity by portraying a day in the life of Irlam Station – and they delighted the judges with their entries.
The area must have a lot of talent as more than 60 people entered the competition and used a variety of different mediums including paintings, illustrations and photography, across both the under and over 18's categories.
All the entries were of an exceptionally high standard but the judges finally managed to select the deserving winners.
In the Under 18s category the winner was Jason Riley, with Leon Nichols and Jake Thompson taking second and third place respectively. The Over 18s section was won by James Mather, with Larry Walker-Tonks taking second place and Kate Chilton third.
Winners from each age group were presented with a prize and they, along with the runners-up of each category will have their work displayed at The Station – Irlam Café Bar as part of a new initiative to bring temporary exhibitions to the heritage hub on a regular basis.
Karla Threlfall, HDT's Marketing Assistant said: "Even if your entry didn't win, it may still be included in our exhibition – so please keep your eye on our Facebook page for further details."
The judges also gave special commendation to Jane Edwards, Laila Brookes and Frank from St Joseph the Worker RC Primary School for their highly impressive entries, which were also shortlisted.
Karla continued: "It was great to see so many local people entering the competition and such a variety of quality designs."
Posted on: 15th November 2017