Bringing the community together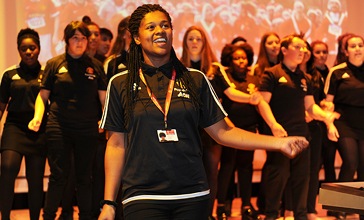 We recently hosted our second Community Christmas Service, bringing local people together for some festive and sparkling entertainment.
Held at Irlam and Cadishead College on 5th December, the 200+ guests enjoyed an exciting and fun bill including performances from: Cadishead Primary School, Irlam and Cadishead College (ICC), the Evergreens and Manchester United Foundation (MUF).
Guests were welcomed by our chairman Neil McArthur and Linda Foley ICC Headteacher and later participated in carol-singing, as well as listening to readings from Craig Thomas (ICC teacher) and John Shiels (MUF CEO).
Among the guests were community groups and volunteers who have worked tirelessly over the last 12 months to help make Irlam and Cadishead a better place to live, work and enjoy.
Neil said: "This was our second Christmas event, aimed at bringing the community together at this special time of year. It was very rewarding to see everyone together in one place for what was an uplifting, fun event."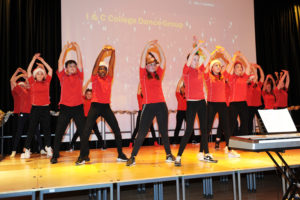 The fun doesn't stop there for us during the festive period! The HDT elves are back out in the community spreading festive cheer and sharing the love!
Donned in elf costumes, the team visit local people and groups delivering spontaneous acts of goodwill.
This year were giving away gifts such as mince pies and sweets to a number of schools and sheltered accommodation.
Next week we will be warming up the workers on their train journey to work by providing free hot chocolate – with a smile, as well as giving goodies away to passers-by when we board the Old Faithful steam engine and trailer that will travel up and down parts of Liverpool Road ….watch this space!
Posted on: 12th December 2017