Another Successful Year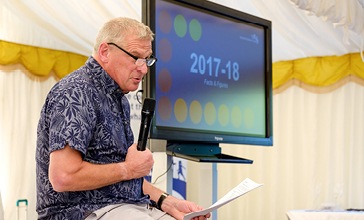 Around 120 people joined the HDT team at the Black Swan in Rixton last night to celebrate some of the many community accomplishments across the district over the last year.
The guest list included community group members, individual volunteers and a variety of partner organisations who have all had an impact in making Irlam, Cadishead and Rixton-with-Glazebrook an even better place to live, work and enjoy.
The highlight of the evening was our annual Community Stars award ceremony, showcasing a number of local people and community groups who we believe have made a significant difference in the community through their dedication and persistent hard work.
The past year's achievements were outlined and the aims set out for 2018/19 by our Chairman, Neil McArthur.
Neil said: 'It has been a very exciting year for HDT with some key projects completing and launching and others progressing well."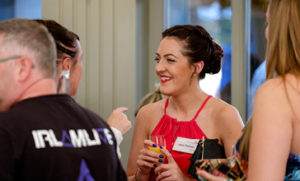 HDT has provided over 600 grants to more than 165 different individuals, groups and organisations and delivered support worth more than £8.3m to the local community since forming in 2004.
One major win was the progress made in respect of the potential re-opening of Cadishead Viaduct – with a stakeholder group established and regular meetings are taking place between all interested parties.
Cadishead Rhino's Rugby League Club launched their new clubhouse with the help of rugby league legend Paul Sculthorpe. The project cost around £580,000 with the help of several partners including HDT, Salford City Council, Salford City Leisure, Sport England and the Rhinos own fundraising efforts.
Paul Elliott, Cadishead Rhinos Club Secretary said:The new clubhouse is fantastic! It will be great for the local community and is making our club the envy of many other rugby clubs in the North West. Thanks to HDT and the other partners that have helped to make this happen."
Andy Burnham – the Mayor of Greater Manchester helped us to launch Newton Boys and Girls Club, which benefited from an extensive refurbishment. Close to the heart of HDT Trustee, Graham Chisnall who was a member in the 1960's, the club, now a state-of-the-art building offers a much nicer environment and some fabulous new modern facilities for the children who attend each week.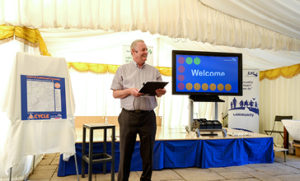 I C Art had another productive year with the installation of the excellent painting 'The Celebrity Express – Irlam' which was launched at a star-studded event attended by some of the passengers on the train including international tenor Russell Watson, as well
Joan Hill, HDT volunteer said: "I just wanted to say thank you to my friends at HDT – I had a wonderful evening at the annual event and it's great to see so many others doing things for the community!"
Neil added: "I would like to say a massive thank you to all of the people who play a pivotal role in the achievements that are made year on year. With such a great team from different areas of the community and various organisations, we continue to make Irlam, Cadishead and Rixton-with-Glazebrook even better places to live work and enjoy"
To find out more about our achievements of 2018/19 or see what exciting projects we have coming up this year, download a copy of our annual report.
Posted on: 6th June 2018