Our Trustees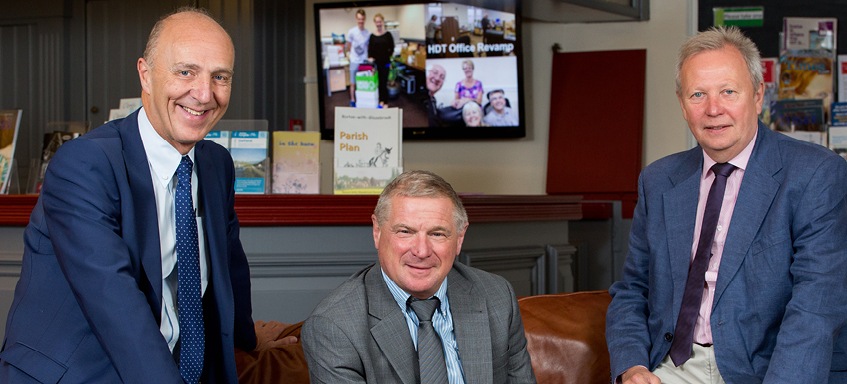 Hamilton Davies Trust has three Trustees: Neil McArthur, Graham Chisnall and Frank Cocker.
The Trustees are responsible for investing HDT's assets and distributing funds. All grant applications are presented to and approved by the Trustees at regular meetings. Each application is considered alongside our aims and objectives.
The Trustees have known each other for many years. Neil and Graham met as apprentices at British Nuclear Fuels Limited (BNFL) and became good friends. In 1996, the pair founded Opal Telecom from their business Thurnall Engineering, where they met Frank who was the Finance Director. Opal Telecom later merged with Carphone Warehouse in 2002 and was renamed TalkTalk.
Neil McArthur

Neil McArthur was born in Irlam and is the son of a steel worker and librarian. He attended Irlam Junior School and Alfred Turner Secondary School before completing an apprenticeship with BNFL in Risley (Warrington). Neil studied telecommunications at the University of Essex, who later awarded him an honorary Doctorate for his telecommunications and charitable work.

A former member of the Greater Manchester Local Enterprise Partnership during its inception, Neil is a passionate advocate of the role that business and industry can play in the ongoing revitalisation of communities and the broader North West region. Recognised for his services to engineering, Neil was made an MBE in 1992. Neil currently works as Group Innovation Director for TalkTalk and is the Chairman and founder of the Hamilton Davies Trust.


Graham Chisnall

Graham Chisnall was born in Newton-le-Willows. His Father worked for a diesel engine manufacturer and his mother was a canteen assistant. Graham met Neil as an apprentice and went on to create Thurnall Engineering and Opal with him. He was later the Group Services Director at TalkTalk, but has since retired. Graham is currently on the Board of Trustees at Hamilton Davies Trust. Having spent a lifetime building and running organisations all based in Irlam and Cadishead, he is proud to be part of HDT, putting something back into the local community.

Frank Cocker

Frank Cocker was born and bred in Leyland in Lancashire. He is a chartered accountant and worked as a Finance Director in Manchester and South Africa before joining Neil and Graham in the same role at Thurnall Engineering and continuing at Opal and then TalkTalk where he retired. Frank joined the Board of Trustees of HDT at its inception.